'Mr. Robot' Finale: Christian Slater on That Times Square Speech and Whether He'll Be Back for Season 2
Mr. Robot had quite a few questions to answer going into Wednesday night's (delayed) finale: Would Elliot (Rami Malek) and fsociety go through with their plan to bring down one of the world's largest conglomerates? What do you do once you've discovered the man you've been working with on that plan is a delusion wearing the face of your dead dad? And, perhaps more important to the actor playing said delusion (Christian Slater), does that delusion stick around?
The answers are: "Yes"; "wake up from a three-day blackout in a fancy car pretty sure you committed a murder and started a revolution"; and "yes." Slater called us up for a chat about that last one.
Just when you think you're out, they pull you back in.
After Episode 9 I just thought, "Where do we go? What do we do now?!" And then when I read Episode 10 I was like, "Aw man, YES." I got very jazzed about it. The scene we shot at Times Square, that speech was… I thought, first, "How am I gonna memorize all this?" And then, "How am I going to deliver it in the middle of Times Square?" I had a total panic attack.
Then I was able to sort of talk myself off the ledge a little bit. I started to just go to Times Square every day, arbitrarily, on my own, and stand there in the middle. I looked like your average person on a cell phone with Bluetooth, and was just saying those lines over and over and over again. Growing up in the city and knowing Times Square, there are just so many distractions and so many things to be blinded by, when you're there. If I had shown up not having had the opportunity to be in that environment, just take it on for a while, I would've been in trouble. Even on the day, it was totally crazy.
Has the way you see Mr. Robot changed? He's part of Elliot, but he also is a distinct person.
I love that in the speech there in the end I say, "Look, Elliot, as far as you're concerned, I am very real." I think that speech had a lot in it. We live in a world built on fantasy—it's all synthetic bullsh-t. It's all so crazy and so insane, and we live hypnotized a lot of the time. I've always looked at Mr. Robot as being absolutely real. Elliot has really formed him into a very real part of him. I did have questions myself, though, and [show creator] Sam [Esmail]'s response to me was, Mr. Robot and Elliot is like Bruce Banner and the Hulk. Whenever Elliot is in a situation where he feels overwhelmed, scared, panicked, unsure or backed into a corner, Mr. Robot will take the necessary actions to push us over the line and really get the job done. The things Elliot is maybe too kind to do, Mr. Robot will step in.
Now that his true nature's been revealed, will we see a different Mr. Robot going forward?
I think he will continue to change, continue to evolve, as Elliot evolves. It's hard for me to specifically have the answer because I don't know what Sam Esmail is planning for Season 2 yet, but I think that's definitely a subject and an issue that Mr. Robot will broach with Elliot. He may ask him at some point, "Why do you always see me this way? …It's frickin' cold out, why don't you imagine a frickin' parka?!" We start shooting in January, February, so he better be imagining me in some ski boots. Or maybe not ski boots, but at least some Uggs, for God's sake.
Did you get the script for Episode 10 right after the one for Episode 9, or did you have to worry for a while about whether you still had a job?
Episode 10 was one of those scripts that was definitely kept in a locked vault until the last possible moment. So I had to sit and stew for a little while. And then maybe my inner Mr. Robot kicked in, and I was like, "Look, I'm not gonna sit here and get myself all worked up into a lather about it. I like a straight answer, I like the truth. So I'm just gonna call Sam." He is the creator of this whole scenario, so he's bound to have the answer for me, he's always been one of those guys who's been so remarkably approachable and open and generous with information.
Do you have a particular scene from the season that's a favorite?
I loved every one of them, but the one I really enjoyed for some reason was the scene with Darlene [Carly Chaikin] at the lair, after the Chinese hackers have backed out, because I really felt like that was the moment where you could really see Mr. Robot's temper. I really worked very hard on that scene, and I loved working with Carly, and that was a great example of Elliot being outside of himself and what Mr. Robot was actually more capable of. And throwing sh-t around is so fun—it's the best therapy there is.
[jwplatform U5mVGNUY]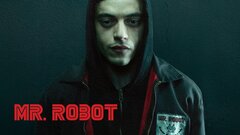 Powered by