What's Worth Watching: Tennis doc 'Althea' on PBS for Friday Sept. 4 and more for Saturday Sept. 5
Althea ( Friday, Sept. 4, 9/8c, PBS, check local listings at pbs.org)
"Aggressive" is the word you most often hear used to describe the play of pioneering tennis star Althea Gibson, whose tragic success story is told in a fascinating American Masters biography. (The series, which typically profiles performing-arts figures, broke form last year with a personal history of Billie Jean King. This film may be even more overdue and worthwhile.) Gibson was known for playing tough—"She basically scared the hell out of a lot of the girls," notes one observer—a style reflecting her upbringing in Harlem, where her father treated her like a boy and from where she had to fight her way into the more genteel culture of tennis.
Gibson was the first African-American to break the color barrier and win, after initial setbacks, at Wimbledon and the U.S. Nationals (now the U.S. Open) in the late 1950s. Celebrated with her own New York parade, and appearances on TV including What's My Line? and Edward R. Murrow's Person to Person (both excerpted here), Gibson found her triumphs clouded by financial troubles, as hers was an era when there no money to be made in championship tennis. She eventually turned to golf, and even cut a few albums, but having chosen not to leverage her fame during the civil-rights struggles of the 1960s, this very private person slid into poverty and obscurity. Attending a Championship Day at the U.S. Open in her later years, she was turned away, unrecognized and shattered. Althea should do much to restore her rightful legend. It's a perfect diversion for when you need to take a break from ESPN's coverage of this year's Open and reflect on who laid the foundation for today's ruling class.
Also Saturday
Blunt Talk 9/8c, Starz
While the boss is away, the staff will play. Walter is court-ordered to attend AA meetings, leaving his staff alone for the weekend.
Saturday Sports
U.S. Open Tennis 11am/10c and 7/6c, ESPN2, Early-round play
College Football noon/11am c, ESPN, Stanford at Northwestern
MLB Baseball 1/noon c, Fox Sports 1, Rays at Yankees
PGA Tour Golf 2:30/1:30c, Golf Channel, Deutsche Bank Championship
College Football 3:30/2:30c, CBS, Louisville vs. Auburn
College Football 3:30/2:30c, ESPN, Penn State vs. Temple
College Football 3:30/2:30c, Fox ,Virginia at UCLA
MLB Baseball 4/3c, Fox Sports 1, Pirates at Cardinals
College Football 7/6c, ESPN, Arizona State vs. Texas A&M
College Football 7:30/6:30c, NBC, Texas at Notre Dame
College Football 8/7c, ABC, Wisconsin vs. Alabama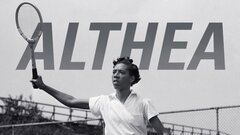 Althea
where to stream
Powered by