What's Worth Watching: 'Fear the Walking Dead' on AMC for Sunday, August 23
Fear the Walking Dead, "Pilot" (Sunday, Aug. 23, 9/8c, AMC)
The zombies are coming. Again. But they're taking their unsweet time, one of several ways in which the long-awaited Fear the Walking Dead prequel/spinoff hybrid breaks tradition with its blockbuster predecessor. The original Walking Dead series thrust us (and hero Rick Grimes) into a state of horrific chaos already well in progress, with civilization pretty much a distant memory. In Fear, when a TV news report—yes, there's still TV—talks of "a catastrophe of biblical proportions," the subject is as benign as a football trade.
If they only knew.
Which is part of the draw of this compelling new series. The suspense that permeates the slow-burning opening chapters of Fear (two episodes were made available for preview) is of a very different nature. We know more than the well-played characters do, and the producers aren't above a cheap tease now and then, making us squirm as our heroes innocently approach someone who may or may not have turned. We're queasily unsure, but they're not even suspecting. Yet.
"It's like it's not real," says Nick (Frank Dillane), the drug-addicted son of tough-as-nails Madison (the always terrific Kim Dickens), a guidance counselor who worries she's lost control of her own family. Nick is the first character who we see encountering a non-living/non-breathing zombie, in a thrilling opening sequence that takes place in the inner-city shadows of the unsuspecting metropolis we know to be Los Angeles. In classic horror-movie tradition, this slacker's crazed account of human devouring human is dismissed as a junkie's nightmare. Soon enough, it will become everyone's waking nightmare.
While we wait for others to catch on, including Madison and her partner Travis (Cliff Curtis), an English teacher with his own broken family to contend with, Fear drops hints that (quoting one of Madison's troubled students), "When civilization ends, it ends fast." And evocatively, as when police open fire on a lurching ghoul who to a protesting mob merely seems homeless. Echoes of Ferguson inform the riots that follow. And because we're all veterans of The Walking Dead, we already know things are only going to get worse for everyone, never better.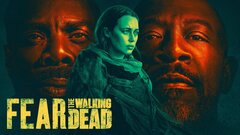 Powered by