'Lethal Weapon' Finale: Will Riggs Finally Avenge His Wife's Murder?
A good finale always leads us into possibly getting answers to all the big questions that have been raised all season and Fox's Lethal Weapon is no exception.
Since its season premiere last fall, the series has been building a mystery around what really happened to Martin Riggs' wife. Was her death an accident or murder?
TV Insider went to series creator Matt Miller to find out what we'll learn about Miranda Riggs' death in the Lethal Weapon season finale. We also find out how guest star Matt Passmore, who plays villain Gideon, landed the role.
When we last saw Riggs (Clayne Crawford), he'd gotten that important file from Palmer (Hilarie Burton). Is Riggs thinking clearly at all at this point?
Matt Miller: Obviously we did an episode, our Christmas episode, where he was suspicious of some of the things about his wife's death and then was basically told that it was all in his head. [Last week's episode] ends with this big reveal where all the conspiracies, all the paranoia, everything he was most afraid of, he finds out it was actually all true and it rocks his world.
All season we've been playing this character that's on the precipice of his own sanity. Then the idea with the end of [episode] 17 into 18 was that we did something that was trying to pull the rug out from under him and suddenly he's completely unglued. And he ends up doing some things in Episode 18, our finale, which I think are surprising to him, certainly surprising to Murtaugh (Damon Wayans) and hopefully surprising to our audience.
See Also
The small-screen adaptation of 'Lethal Weapon' got some big news today.
So many times during the course of this season, Riggs has been asked, "Do you want to live?" Do we get an answer to that in the finale?
I think it's an ongoing question for him where he constantly thinks he has the answer to that and maybe he changes his mind. Maybe there's moments where he thinks, "I can't quite do it." And there's moments where he thinks, "I really wanna be dead." In the finale, we definitely play with him being as close to going into the abyss as we've seen. And it's also very much about, not just Riggs but it's about Murtaugh and how far is he willing to go to protect him. What will he sacrifice of his own career and his own safety?
What made you think to make Matt Passmore your villain, because I've never seen him play a role this dark, but he's really a great bad guy.
He actually had auditioned for Riggs at one time and I thought he was an excellent actor. One of the casting directors, I think it was Tess Sanchez at Fox, brought him up to play this role of Gideon. We wanted someone, formidable. It wasn't just about them being physically formidable in the sense that they were a tough guy but someone that could hold their own with Riggs. It had to be somebody that when the two of them were alone, it was going to feel like a really good game of chess between the two of them both physically and psychologically.
Is there more to the story of Miranda's death that we'll find out in the finale?
We certainly find out a lot about what happened surrounding her death in the finale. We want to play that hand pretty strong at the end of Season 1 so that we can reset our mythology in Season 2. I don't want to play a show about what happened to Riggs's wife for five seasons. I think that that was the question of Season 1 and I think that will always be the existential question for him—can he ever really achieve happiness because of what's happened?
Here's a preview of the Lethal Weapon season finale:
Lethal Weapon, Wednesdays, 8/7c, Fox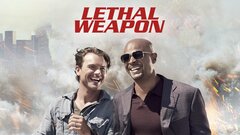 Powered by