'Jane the Virgin' Casting News: Britney Spears to Hit TV Screens One More Time
Things are going to get a little toxic for Rogelio De La Vega (Jaime Camil) when Jane the Virgin returns to The CW this fall. Britney Spears is set to guest star as the Latin star's "nemesis" in the show's second season. The pop star tweeted the announcement herself.
See u at the Marbella Hotel soon, @hereisgina @jaimecamil! 🙈 Guest starring on one of my favorite shows EVER @CWJaneTheVirgin #DreamComeTrue

— Britney Spears (@britneyspears) August 11, 2015
"We are so thrilled that Rogelio's 'nemesis'—Britney Spears—has agreed to appear on Jane the Virgin in Episode 205," says Jane the Virgin showrunner Jennie Snyder Urman. "Personally, after hearing about their longstanding feud (from Rogelio's point of view), we are eager to hear Ms. Spears' side of the story, which we assume is quite different. #TeamBritney"
But while Camil's TV alter-ego might not be so thrilled about the singer's impending visit to the Marbella, the actor expressed his excitement on Twitter.
You're the absolute best @britneyspears! It'll be a great honor to have you on the show! #DreamComeTrue for us😉 https://t.co/yZpMXqTumn — Jaime Camil (@jaimecamil) August 11, 2015
This isn't Spears' first stint on TV; she's also guest-starred on How I Met Your Mother and Sabrina the Teenage Witch.
Jane the Virgin returns Monday, Oct. 12 at 9/8c on The CW.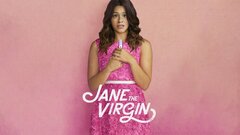 Powered by