Meet the Newest 'Pit Bulls & Parolees' Parolee (VIDEO)
It may not be so hard to teach an old dog new tricks after all, and new parolee Darrius on Animal Planet's reality series Pit Bulls & Parolees—which aims to shed a new light on the reputation of both pit bulls and the incarcerated—is doing great at his new job training an adorable pup.
In the exclusive clip below from the season premiere on August 5, watch Darrius learn the tricks of the dog training trade down at the Villalobos Rescue Center in New Orleans. You can even pick up some tips for yourself if you're having trouble getting your dog to sit on command. Or maybe you're just missing dogs in your TV world after the cancellation of Downward Dog earlier this season—we won't judge.
See Also
Can the cat behaviorist help the actor find his grumpy, blind cat?
Honestly, we're not sure what's more heartwarming about this clip—watching the pit bull's pure joy at learning a new trick (and getting food for it!), or Darrius' mature conclusion regarding his time in jail. "Jail actually groomed me to be a responsible young man," he says. We're paws-itive this pup is in good hands.
Check out the clip below.
Pit Bulls & Parolees returns with a new season on Saturday, August 5, at 9/8c with back-to-back episodes.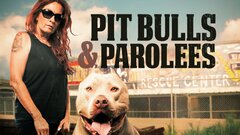 Powered by