'Kevin from Work': Not Another Bad Romance
A call from human resources is the least of the problems dogging the hapless employee at the center of ABC Family's new comedy Kevin From Work. Canadian Noah Reid stars as the titular character, a nice, normal guy with a nice, normal job as a food and beverage distributor who makes an abnormally bad mistake: He puts pen to paper and sends an ill-advised note to his office crush, Audrey (Paige Spara). "He's been pining for her for years," explains executive producer Barbara Adler (How I Met Your Mother). "He thinks he is leaving the country for a new job, so with the emotional freedom of thinking he's never going to see this woman again—and getting drunk—he writes her a letter telling her how he feels and mails it. And then that other job falls through."
Stuck having to face the fallout of his confessional missive, Kevin soon finds out that maybe he didn't do the dumbest thing ever. Audrey doesn't shut him down, Adler reveals, while also noting that these two won't simply fall into each other's arms either.
"She's in another relationship," she says. "Still, when she reads Kevin's heartfelt thoughts, it touches her. She's a sweet girl, so it's complicated."
RELATED: Watch an Extended Trailer of Kevin From Work
Adding to the messiness will be Kevin's and Audrey's various friends and coworkers, who will try (and mostly fail) to help them make sense of their new dynamic while also giving the show other storylines so it won't just follow the central couple in all their will-they-or-won't-they glory. "What I really wanted to do in developing this was to not make it, 'Oh, it's a romance' every week," Adler says. "I know that gets people interested, but that appetite can be sated quickly if you don't do something else."
Still, Adler realizes that her charming leading man is one of the show's biggest draws. "When I saw Noah's audition, I was blown away," she gushes. "A guy who likes a girl who doesn't like him back can come off as wimpy. There is none of that in his performance. He is likable and confident—not pathetic!" Sounds like he's making it Work.
Kevin from Work, Series premiere, Wednesday, August 12, 8/7c, ABC Family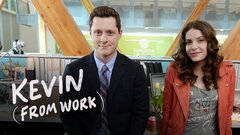 Powered by