6 Things to Know About 'Degrassi's Move to Netflix
Out with the old class, and in with the new. Now that Degrassi has wrapped it's run on TeenNick, fans are eagerly awaiting the show's debut on Netflix early next year where it will return as it's latest incarnation, Degrassi: Next Class. Until then, we pressed Executive Producer Stephen Stohn for some details on the new series, which is currently under production. Here's everything that we learned.
1. The show will follow the remaining characters, including a few new additions.
Now that Degrassi's senior class has graduated and are off pursuing their futures, Zig, Maya, Tristan and the remaining cast will become the focus of the show. But viewers looking to jump into the series shouldn't feel pressured to catch up on previous seasons. "We're trying to make a fresh start for a fresh audience. They don't need to have seen Degrassi before," says Stohn. "If you're a long-time Degrassi viewer, you will know the backstory and, in some ways, the [viewing] experience may be richer and as we go along."
2. Don't expect an update from any recent Degrassi graduates just yet.
As much as fans may be dying to know whether Clare joined Eli in New York, or if Sean and Emma eventually get together, it may take some time before there are any answers. "Throughout the history of Degrassi, there's always been little check-ins back and forth," says Stohn. "[But] as we begin on Netflix, it's important for us to frame this as a fresh start. It is called Degrassi: Next Class."
3. The change in administration will be addressed.
Stohn says that anyone hoping for Mr. Simpson to make a speedy return from Haiti will have to log onto Netflix next season to see if phone-banning Pill's appointment as principal is permanent or temporary.
4. The show may be getting a longer opening credit sequence.
Degrassi's most recent title sequence was a far cry from the longer, more storied opening credits the series started with. Now that the show will be streamed, Stohn is hoping to return to something similar. "For the first 10 seasons, we did credits that were little vignettes of characters. We won't necessarily be doing that, but we will be doing something that is very reflective of Generation Z and how tuned-in they are to technology."
5. Past seasons of Degrassi won't be available on Netflix any time soon.
With 14 seasons under its belt, the show has a large backlog of episodes. Unfortunately fans hoping to binge on previous seasons might have to wait a while. "For the time being it's been important for us, and for Netflix, not to confuse the audience," explains Stohn. "We didn't want new viewers to type in 'Degrassi' and find some older episodes and get confused. Hopefully after a period of time, it will be appropriate to start going back and having a look at Degrassi."
6. Degrassi: Next Class will see the series celebrate it's 500th episode.
Stohn is mum on the details, but long-time fans will probably not want to miss the episode.
Degrassi: Next Class will be available on Netflix in early 2016.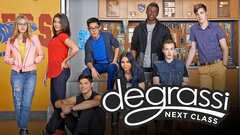 Powered by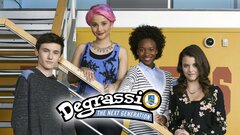 Powered by