'Westworld' Season 2 Footage Revealed at Comic-Con 2017
The cast and creative team behind Westworld revealed the first footage from the show's sophomore season at their Comic-Con panel.
The scenes from the HBO series—which has only been filming Season 2 for a week—include a very bloody Man in Black (Ed Harris), Bernard (Jeffrey Wright) with a dead (synthetic?) animal, and a gun-toting Evan Rachel Wood…but is it her portraying Wyatt or Dolores?
Check out the trailer:
During the panel, co-creator Jonathan Nolan acknowledged the series has already altered his perception of reality, and he doesn't want to be alone. "What we're trying to do is slowly reprogram the human population," Nolan said with a laugh.
Westworld, Season 2, 2018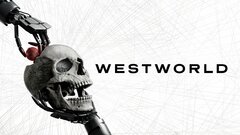 Powered by