Comic-Con 2017: 'Westworld' Panel Live Blog
Didn't make it to this year's San Diego Comic-Con—or brave the line for Westworld's Saturday afternoon Hall H panel? Let TV Insider be your front-row seat as HBO's dark, dramatic hit about the the dawn of artificial consciousness and the evolution of sin takes the stage.
Moderator Reggie Watts is joined by cast members Ben Barnes (Logan), Ingrid Bolsø Berdal (Armistice), Ed Harris (the Man in Black), Luke Hemsworth (Stubbs), James Marsden as (Teddy), Thandie Newton (Maeve), Simon Quarterman (Lee Sizemore), Rodrigo Santoro (Hector), Angela Sarafyan (Clementine), Jimmi Simpson (William), Tessa Thompson (Charlotte Hale), Evan Rachel Wood (Dolores), Shannon Woodward (Elsie) and Jeffrey Wright (Bernard/Arnold), plus the show's creators Lisa Joy and Jonathan Nolan.
*Refresh the page to see updates
Still looking for TV panels to attend? Check out TV Insider's Comic-Con schedule.
Westworld @ San Diego Comic-Con Live Blog
5:18: Watts sings us out. Check out more of our Comic-Con 2017 coverage at tvinsider.com/category/comic-con//
5:15: New trailer premieres.
https://www.youtube.com/watch?v=phFM3V_dors
5:10: Newton says that even though she's all about the empowerment of women, being able to surrender to what is written for her character is exhilarating.
5:05: Wood says she knew Westworld was a hit "when I was in Target and someone yelled out 'Freeze all motor functions.'"
Marsden says he treats all his deaths the same. "I love all my deaths equally … like my children. It's always sad when Teddy has to say good-bye … because it's always the first time for him. " Watts calls him the [South Park] Kenny of the Westworld world.
5:01: Simpson says William is becoming more fragile and more human from his first time falling in love and getting his heart broken. "It turned William into a f—king Ed Harris," he jokes.
Wood says her hardest scene to film was when Jimmi had put on that black hat. Simpson, too. Wright says being tortured over the course of a week by Anthony Hopkins — but they were enjoyable scenes, too. "Maybe that says something about me," he smiles.
4:54: Marsden says Teddy and Delores represent hope and purity. He loves how the hosts sometimes represent the best of what humanity is about.
4:54: Wright hasn't slept. Came to Con from filming the new season.
4:48: Watts asks Newton if Maeve's decision to get off the train and go back for her daughter was her first conscious decision. "Is she going back for her daughter?" Newton teases? (Ooooh, crows the crowd). Newton says that Maeve's real conscious moments come when she's trying to earn program updates, in moments of chaos. "In moments of chaos, that's when gifts come," she says.
4:42: Harris says the show is its own really its own genre. "It's very specific … even though it's confusing," he says. "Anything that's paid attention to that much deserves being paid attention to." He cites another HBO hit for example: "You watch Game of Thrones and I don't know everything that's going on in that thing, but I enjoy watching it."
"How much do you want it to play a role in Season 2?' – Jonathan Nolan on the samurais at the end of #westworld Season 1. #WestworldSDCC

— Westworld (@WestworldHBO) July 23, 2017
4:38: Asked about the evolving idea of AI, Nolan says his perception of reality has shifted since they started doing the show. For example: "I just did a tequila shot with Ed Harris in the parking garage, " he jokes. "What we're trying to do with the show is slowly reprogram the human race."
4:35: What's Nolan and Joy's inspiration for the surreal action? "Jonah used it as an excuse to make me play Red Dead Redemption," Joy cracks. "My wife is the only person who obeys traffic symbols in Grand Theft Auto," adds Nolan. "All the smart stuff, her. Grand Theft Auto me."
4:33: How would the panelists alter their own personalities if they could? Simpson would be able to eat mushrooms. Lisa Joy would like surfing more. Quarterman would be more sporty (Simpson jokes he would be less.)
4:26: Watts jokes about the accuracy of the weaponry, the lovely user interface – calls it relaxing. Then he compliments the series as a show "that doesn't pander. Or expect people to keep up with it. It just is what it is.
4:24: We're underway with moderator Reggie Watts and a pretty epic blooper reel that includes, among other things, Wood being treated to the wrong end of the horse, Harris for getting his lines and Hopkins dancing across the set.
4:20pm PT: We're still trying to cram people into the hall.
Freeze all motor functions… for a selfie.
The #Westworld cast drops by the #WestworldSDCC Experience Center at #SDCC2017. pic.twitter.com/ocCXMxrvkS
— Westworld (@WestworldHBO) July 22, 2017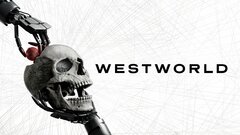 Powered by