Kim Kardashian Needs a Girl Code Intervention, Says Carly Aquilino
Whether it's about breakups, sexts, or social media, Girl Code—MTV's femme-tastic series in which cast members riff on a range of female-centric topics—will never steer your sisterhood wrong. Here, one of the show's experts, comic Carly Aquilino, discusses some of her life lessons.
Where do Code items come from?
They're things that happen to everyone, whether you're a guy or a girl. The same thing we have problems with, there's a guy version of it.
But Guy Code tends to go against Girl Code. Dudes will date a friend's ex, for example. Right?
I think guys are more lenient on things. They let each other get away with more. [Laughs]
What's your worst Girl Code violation?
I have way too many times been that sloppy girl who's out drinking too much and embarrassing her friends—that girl everybody hates. [Laughs]
You're seeing SNL's Pete Davidson. What's the Girl Code for dating a fellow comedian who's also on TV?
It's just good to be best friends. That's the advice I would give to anyone in any relationship.
Where do you stand on telling a girlfriend that she looks bad?
I'm not going to let them go out and look stupid. So if you're going to hit them with a low blow, always have a compliment waiting, like, "Your outfit just doesn't look good…but you have a good personality." [Laughs]
Which celebrity needs a Girl Code intervention?
Maybe Kim [Kardashian]? We should sit down with her. But half of us would be like, "Girl, what are you doing?" and the rest would be like, "Girl, how do you do your eyebrows?" We wouldn't get much done!
Girl Code, Returns Wednesday, June 3, 10/9c, MTV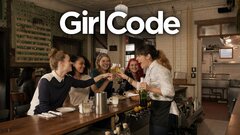 Powered by