5 Reasons We Love Corey Stoll's Ephraim in 'The Strain'
As those dastardly strigoi rule the U.S. and keep humans alive only for their blood supply, things are looking pretty bleak right now on the FX thriller The Strain. But there is one bright spot, and that is Corey Stoll's determined Dr. Ephraim ­Goodweather. Here's why.
1. He's a survivor.
This brave new world is especially hopeless for Goodweather, but he continues to push forward. "Eph has lost his family, his career, his society—and he's living literally underground," Stoll says. "He's away from human contact. He's ­really just in survival mode."
2. He's a badass.
He's a fugitive but, in order to survive, Eph has to leave the underground and be "on grid," where the strigoi fiercely rule. That means evading capture daily. "He has to get on grid almost every day in order to get supplies. There's a constant threat of being seized."
See Also
The showrunner explains Season 3's explosive climax and what lies ahead.
3. He's a good doctor.
Eph can't ­ignore someone in need. "The ­Hippocratic oath is deeply ingrained in him," the actor says.
4. He never gives up.
He may have failed in the past, but finding how human blood is transported by the strigoi has Goodweather plotting. "Eph realizes that if he's able to infiltrate that supply at a certain choke point, he could take out a lot of them at once," Stoll teases.
5. He's still a family man.
His son, Zack (Max Charles), nuked NYC (kids these days!) and aligned himself with the villainous Master (Jonathan Hyde). Still, Eph strives to get through to him. "That's the thing keeping him alive," the actor says. "Both his desire to save his son…and the desire to punish him!"
The Strain, Sundays, 10/9c, FX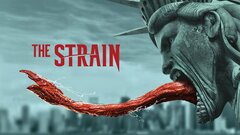 Powered by