Mr. Robinson: An Office Alum Makes New Music (Summer Preview)
Here's to you, Mr. Robinson. The Office vet Craig Robinson returns to NBC as a struggling Chicago musician who begins substitute teaching at his old high school in an attempt to win back the affection of former fling Victoria (Meagan Good).
How similar is this character to the real-life Craig Robinson?
Well, I used to be a schoolteacher in Chicago teaching K through 8th-grade music. We have my real band, Nasty Delicious, on the show. And I, along with every man and probably every woman in America, have a crush on Meagan Good. It is a heightened version of me, though. TV Craig is always wearing jackets and looking nice, but I just wear jeans and a T-shirt mostly. [Laughs]
Why was music an important element to include?
Music is my partner. In everything I've done, you've always seen me singing with a keyboard. It's my dream of having one foot in the music and performing world.
Are any of your other cast members as musically talented as you are?
Everybody can do a little something. We had the wrap party right on set because we had all the instruments there and we'd be jamming after the show, so I would call up different cast members. Amandla Stenberg got up and sang, Ben Koldyke got up and kind of rap-spoke. But Tim Bagley got nervous and froze!
Can we expect any guest stars on the show?
Gary Cole plays an aging British rocker, and Earth, Wind & Fire is in our final episode. That is my favorite group of all time. When it turned into a possibility that they could do it, I didn't want to get my hopes up. Then they got booked and everybody lost their minds. When they were on set, I started playing a little of Chick Corea's "Spain," and then Philip Bailey started scatting over it. It was a moment in time!
What lessons did you learn from The Office that you're carrying over to Mr. Robinson?
Steve Carell was so gracious and always just a good guy. I try to emulate that. Be cool and everybody has a good time. But being the lead of a show, there is no rest. You can have the nicest trailer, but you don't get to see it, because you are always working. [Laughs]
Mr. Robinson, Premieres Wednesday, August 5, 9/8c, NBC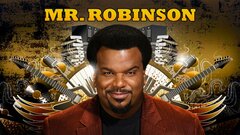 Powered by