Disney's 'Descendants': Singing (and Dancing) Toward Good and Evil
The apple doesn't fall far from the tree…especially when it's a poisoned apple. The twisty new Disney Channel movie Descendants reveals that a quartet of famous Disney villains—Maleficent (Sleeping Beauty), the Evil Queen (Snow White), Jafar (Aladdin) and Cruella de Vil (101 Dalmatians)—all spawned children and have been imprisoned with them for years in a Dickensian slum known as the Isle of the Lost. Now those kids are hardened teenagers with budding criminal careers of their own.
But are they truly bad to the bone or just poorly raised by unruly parents? That's put to the test when the four descendants are invited to attend prep school in the fabulously perfect kingdom of Auradon, where they'll mix it up with the wholesome offspring of Beauty and the Beast, Sleeping Beauty, Mulan and Prince Charming. Even Dopey has a son enrolled in this exclusive academy.
"All these timeless heroes and villains having children is a great way to put a new spin on the age-old battle of good and evil—and having them coexist in the same world is a Disney fan's dream," says the film's director, Kenny Ortega, who also helmed Disney Channel's blockbuster High School Musical franchise. Does Descendants have the same sequel potential? Count on it. But it's not just kid stuff. "We've aimed this movie at the broadest audience possible, from 8-year-olds who may not know some of the older Disney classics like Snow White and Cinderella to the many generations that grew up loving them," says Ortega. "No one will feel left out, not even your grandparents."
Descendants was originally conceived as a straight-up adventure drama, but it turned melodic with Ortega on board. The film's anything-goes score includes seven tunes spanning a variety of styles (hip-hop, power pop, percussion, electronic, Broadway), but the Mouse House does not consider it a full-blown musical.
"The songs are much more like fun surprises," says Steve Vincent, vice president of music and soundtracks at Disney Channel. "There was so much incredible story to be served—and so many characters raising heck, as we say at Disney—that a standard score of 12 or 14 songs would be too much. But the ones we have are epic, and they required some heavy lifting from our young stars."
Casting involved a five-month search that stretched to England and Australia. "Our kids didn't just need to sing, dance and act; they needed to be bright, take risks and bring some real star quality to the party," Ortega says. He settled on two teens already known to Disney Channel fans—Dove Cameron (Liv and Maddie), who won the role of moody Mal, daughter of Maleficent (Kristin Chenoweth); and Cameron Boyce (Jessie), who plays Carlos, the dog-phobic son of Cruella (Wendy Raquel Robinson). Sofia Carson, star of the channel's upcoming movie Further Adventures in Babysitting, plays Evie, daughter of the Evil Queen (Kathy Najimy), while Booboo Stewart, best known as werewolf Seth Clearwater in the Twilight flicks, is Jay, the thieving son of Jafar (Maz Jobrani).
"These kids know nothing else but life on the island," Carson says. "In fact, until they get to Auradon, they don't even know they are different." Adds Boyce: "This new place where people smile and wave and watch out for each other has them feeling good inside—and that's not a feeling they're comfortable with."
If the teens stick to their ruffian ways and upset this fairy-tale nirvana, it'll backfire like crazy on Prince Ben, son of Belle (Keegan Connor Tracy) and the Beast (Dan Payne). It was Ben, portrayed by Aussie newcomer Mitchell Hope, who invited the brat brigade to Auradon. "He wanted to give them a chance at an education and some happiness," Hope says. "He's a nice prince who wants to be a strong king. His reputation rides on this." The problem, notes Stewart, "is the villain kids are like puppies trained to be bad. Are they strong enough to break free of their parents' influence and find out who they really are?"
The nature-versus-nurture issue really amps up when Maleficent orders her daughter to sneak into Auradon's archive museum—home of such precious Disney tchotchkes as Sleeping Beauty's spinning wheel and the Beast's floating rose bell jar—to steal the magic wand used by Cinderella's Fairy Godmother (Melanie Paxson). That wand can set the villains free.
"Mal is under horrible pressure to become a younger version of her mother," says Cameron. "In real life, we don't have Disney villains for parents, but this will still hit home. Descendants has romance and magic and a lot of laughs, but, more important, there's a powerful message for kids: No matter what troubles and hardships you've been handed, you can still create the life you want."
Descendants, Friday, July 31, 8/7c, Disney Channel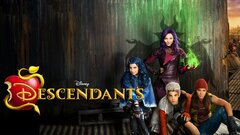 Powered by