Texas Rising: Meet The Characters
Texas Rising, History's 10-hour tale of the Lone Star State's post-Alamo revolution, kicks off tonight. The action-packed drama in the West features a star-stacked cast playing a litany of characters based in both historical fact and television fiction; here, a guide to who's who:
SAM HOUSTON
Played by: Bill Paxton
Real or fictional? Real. Houston's brilliant military strategy won Texas its independence, and his politicking as its president brought the republic into the Union in 1845. The city of Houston is named after him. "Sam Houston was a strongly principled man with great ethics," says Paxton, a Fort Worth native. "He was a hero to me."
War is hell: When Houston didn't take immediate action against Santa Anna after the Alamo slaughter, dissidents wanted him removed from command. "They sought quick revenge, but Houston knew it would be foolhardy," Paxton says.
Fun fact: The actor is related to the soldier. "He's my second cousin four times removed. Something out there is smiling on me doing the part."
---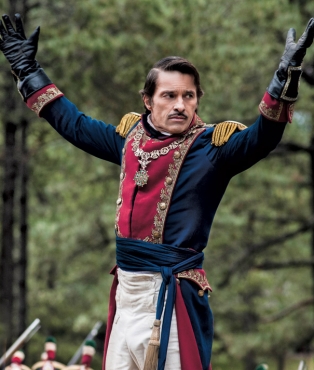 ANTONIO LOPEZ DE SANTA ANNA
Played by: Olivier Martinez
Real or fictional? Real. The president of Mexico, called the Napoleon of the West, led the attack on the Texan rebels. "Though we invented his love affair with Emily West, he was a national hero who kicked the Spanish and the French out of Mexico," Martinez says. "He was a poor president but a great soldier."
War is hell: His vengeful execution of every male Alamo survivor united the Texans to fight for an independent nation.
Fun fact: The French-born Martinez (his dad is Spanish) is a horse aficionado. "I asked to be given the best horse, because Santa Anna had to have the most beautiful horse. They found me this black stallion who couldn't stay on his mark because he wasn't trained!"
---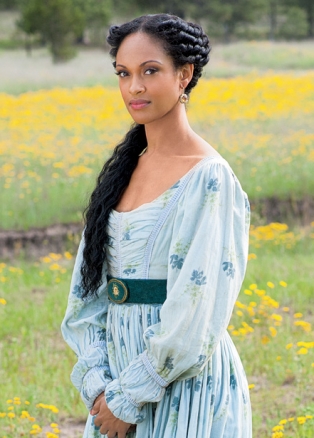 EMILY WEST
Played by: Cynthia Addai-Robinson
Real or fictional? A little of both. In the miniseries, Emily is a courtesan caught at the Alamo, where she's come to buy her brother out of slavery. In truth, a biracial woman named Emily West did exist; she was likely an indentured servant to a local man.
War is hell: "Her mission starts out quite personal: to avenge her brother's death," the actress says. "But when she infiltrates the Mexican camp, she decides to gain information to get back to Sam Houston."
Fun fact: While Addai-Robinson honed her fighting chops on Arrow and Spartacus, this time "it's more seduction than swords," she says. "This was such a guy's set," adds Martinez. "Cynthia was quite spoiled!"
---
LORCA
Played by: Ray Liotta
Real or fictional? Fictional. Lorca, a farmer, is the only member of his family to survive the Alamo; he then sets out to slaughter as many Mexicans as possible. Based on Native American legends about lone-wolf Alamo survivors, "Lorca represents what war does to a person," says Liotta.
War is hell: While Lorca tells Houston, 'I take orders from nobody; not you, not God,' the vigilante ends up helping the Rangers' mission by killing many of Santa Anna's men.
Fun fact: Liotta had never before ridden for a role but says,"Getting on a horse is the ultimate in playing cowboys, Mexicans, and some Indians. I became obsessed with riding and doing the stunts myself."
---
ERASTUS "DEAF" SMITH
Played by: Jeffrey Dean Morgan
Real or fictional? Real. A leader of the Rangers, born in Dutchess County, New York, he was Sam Houston's closest adviser. "There's a real bromance between them," Paxton says. "They totally respect and trust each other."
War is hell: Smith was partially deaf (hence the nickname, pronounced "deef"). Despite being terminally ill with consumption, "he saw that Santa Anna was a danger to both America and his own people, and he was not a man to sit back and let things happen," Morgan says.
Fun fact: Because Deaf read lips, Morgan never looked at co-stars' eyes on set. "If people wanted to talk to me, they'd have to get my attention, usually by throwing stuff at me."
---
BILLY ANDERSON
Played by: Brendan Fraser
Real or fictional? Fictional. "Billy is a composite character of children kidnapped and integrated into Native American tribes," Fraser says of his character, who was taken by the Kiowa as a child and, once grown, left the tribe to become a Texas Ranger. "He is caught between worlds and has a conflicted heart about who he's fighting and why."
War is hell: Billy, who wears his hair in braids and is skilled with a bow and arrow, aims to stay true to both of his cultures—and to his Comanche warrior son. "He needs to belong to a band and follow a chief," Fraser says.
Fun fact: Fraser liked Billy's Percheron horse so much, he took him home after the shoot and now boards the animal at a local stable.
---
The Rest of the West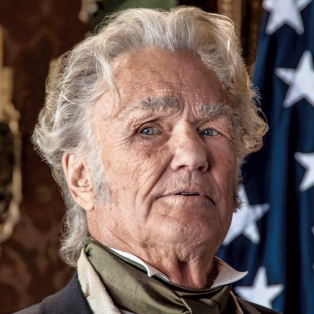 ANDREW JACKSON (Kris Kristofferson, left) The president of the United States "was prohibited by treaty to engage the Mexicans," says producer Leslie Greif, "but he was hoping for a Texan win so he'd have a friendly neighbor nation or even a new state
EMPRESARIO BUCKLEY (Robert Knepper, right) Buckley represents Mexico's interests—and his own—when he sells land in Native American territory to hapless American settlers. "He's your classic opportunist," Greif says.
JACK HAYS (Max Thieriot) A quick-draw volunteer for the revolution, Hays later became one of the first and youngest leaders of the Texas Rangers.
JAMES WYKOFF (Thomas Jane, left) The farmer comes to Victoria, Texas, with his family to buy cheap land from Buckley. "He has no idea how dangerous that will be," Greif says.
MIRABEAU LAMAR (Chad Michael Murray) The cocky army private fights alongside Houston while he secretly works to get the general removed from command. Historically, he and Houston were longtime political opponents.
JAMES WALKER FANNIN (Rob Morrow) A West Point–trained officer in command of Fort Goliad, Colonel Fannin makes a tragic mistake, as history bears out, when he ignores General Houston's orders to evacuate.
KIT ACKLIN (Trevor Donovan) "The young Texas Ranger is a great horseman and a ladies' man," says Greif. Acklin falls in love with a settler named Rebecca (Molly McMichael), whom he rescues from drowning.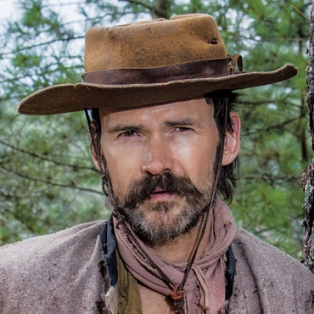 HENRY KARNES (Christopher McDonald) Based on an iconic soldier, "Karnes is a crusty curmudgeon and Ranger cocaptain with Deaf Smith," explains Greif.
EPHRAIM KNOWLES (Jeremy Davies, right) Every Western needs a coward and a liar. Knowles is also a deserter and a thief who joins the Rangers to avoid execution. Says Greif: "He's a total weasel."
Texas Rising, Series premiere, Monday, May 25 9/8c, History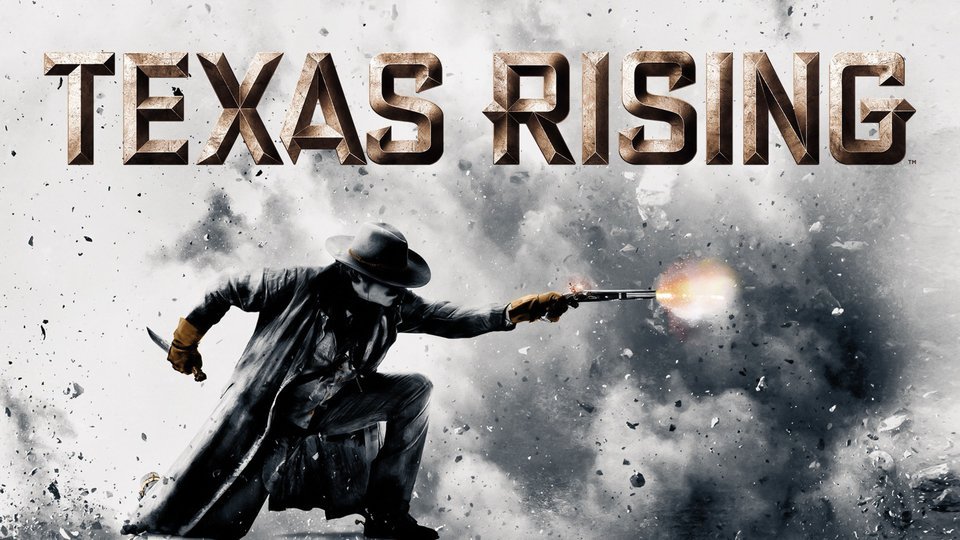 Powered by