'The Fosters': Maia Mitchell on the New, 'Less Impulsive' Callie
In the Season 4A finale of The Fosters, Callie (Maia Mitchell) found herself stuck in a car with a possible murderer. By the end of the season, in the 4B finale, Callie finds herself trapped once again, this time in a motel room at the mercy of a pimp. While it seems Callie just can't catch a break, Season 5 might finally give her a chance at a little happiness (including a budding romance with Aaron, played by Elliot Fletcher, in television's latest groundbreaking relationship)—once she escapes Russell (Joseph Julian Soria) the pimp, of course.
Mitchell broke down what we can expect to see with Callie (and a few others!) in Season 5 of The Fosters, which begins Tuesday.
The Season 4 finale was insanely brutal for Callie. She's stuck in this dangerous situation and doesn't have her phone. What's going to happen to her now?
Maia Mitchell: Nothing good. She once again has put herself in another life-threatening situation—you're going to see the effects of that. This whole experience is really going to affect her moving forward. I think it's a big reality check that she's not immortal and that life is precious. You're definitely going to see her take on what this experience meant for her and try to take a different road. She's still going to be very socially and politically conscious and be her outspoken, driven, selfless self, but in a different and more practical way. She's trying to think through the consequences rather than act on impulse.
How does this effect the trial?
There's a reveal at the end of the episode about that. No spoilers, but the whole trial thing is resolved one way or another at the beginning of the season.
See Also
Just how much should we be worried about our favorite pair of lovers on the Freeform hit?
As you mentioned, Callie is constantly being put in these life-threatening situations. Do you do anything to prepare yourself mentally to shoot these intense scenes?
I mean, there's not a lot that I can draw off of. There are similarities between Callie and I, but we're so different. She's impulsive and reckless, and I'm like completely the opposite—I think through everything a trillion times before I do it. I'm a very calculating person. So, there's really nothing I can do except but jump into it.
But also, the guest stars we have are all amazing. The executive producers are all so involved. The premiere episode was directed by Peter Paige, the creator of the show, so having him on set as well is super-helpful to be able to really dive into it. We have a very fun set, despite how much drama there is onscreen. Between the "Action" and "Cut," we just really commit, and it's a really safe environment. The crew is super-respectful, especially when we're shooting scenes like the motel room—and, you know, the really intimate and vulnerable scenes—they're all very quiet, and it's a closed set so not many people are on set, so it's easier to jump into it. Especially since I've been playing her for almost five years now. She's kind of just something I'm able to dive into.
What was your first reaction when you were told that Callie's storyline would head in this direction for the end of Season 4/beginning of Season 5?
To be quite honest, I was a little mad [laughs]. At the beginning of 4B, they told me she would be a little more safe and I would have no night shoots, so I read the script, and, of course the moment when Callie says, 'I'll go with you,' and gets in the van, I was like 'Whyyyy Callie, noooo!" It's still exciting to me, though. That's why I wanted to play Callie. From the pilot you kind of knew she would be getting into these situations, and every time something like this happens in the script, I learn new skills—I'm learning a lot. I love it. I'm really glad I get to play a character like Callie, especially on such a long run of a show. She never bores me. There's never a moment to breathe.
See Also
After seven seasons, the twistiest ex-teen drama killed it.
Callie and Aaron are also beginning a new relationship this season. How are we going to see that progress? Are we going to get a first date?
You will get a first date! I can't say whether or not that will go well for them. Their relationship definitely develops in an upward trajectory. You'll get to see Callie and Aaron really being vulnerable with each other. I think Aaron is a really good person in Callie's life, especially right now as she's trying to be less impulsive. He shares her love of social welfare and all of those things, so I think that she can relate to him and he can relate to her and understand why she does the things that she does, but he is also more calculated than she is, so it helps her explore that in a way that is safe for her. He's a really positive person in her life.
Also, while she is trying to be less impulsive, and is trying to calculate what is reckless and what isn't, she isn't always going to make the right choice on that. That's all I'm going to say.
Is there anything else she's trying to do to bring more positivity into her life?
Yeah, absolutely. She becomes very invested in her art as a means to express herself. A big scene coming up for her is discovering herself as an artist and being vulnerable in that space and that medium. She develops a really strong positive friendship with someone who is a mentor figure for her in her art, and it's a really good personal development for her, as well as her outlook for the future and potentially going to college. That becomes her focus and where she decides to anchor her energy.
What's going on with everyone else? Can you tease anything?
Well, Mike (Danny Nucci) and Ana (Alexandra Barreto) are continuing to grow closer, and there's a big event that happens between them. Jesus (Noah Centineo) and Brandon's (David Lambert) relationship really goes through a lot of tests and trials. His TBI affects the whole family, so you'll see how they all deal with that together. There's a lot. Mariana (Cierra Ramirez) is going to explore something new, I can't really say what exactly, but a way for her to find community now that her friendship with Emma (Amanda Leighton) is on the rocks. She finds a new group of girls who she becomes really close with and really finds a community there, which is exciting.
The Fosters, Season 5 premiere, Tuesday, July 11, 8/7c, Freeform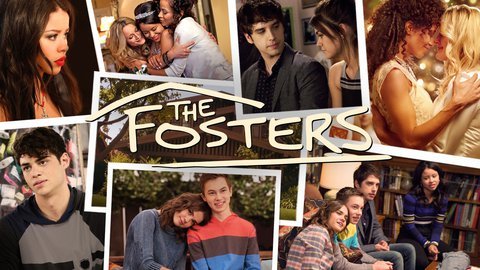 Powered by