'Hannibal's Future May Be Uncertain, But the Fandom Is Alive and Well
Fans held up "Fannibals Forever" signs and booed when the show's cancellation was mentioned during Saturday's Hannibal panel at San Diego Comic-Con. With the show's future uncertain, the event was both celebratory and bittersweet.
"NBC should be applauded for letting us do crazy s–t for 3 seasons," executive producer Bryan Fuller said. Even though the search continues for another home for the show, there's no deal in place yet. Netflix and Amazon recently passed on picking up the series; according to Fuller, Amazon wanted to do it very quickly but he wanted to have all the scripts done before shooting a season. "We're looking at the possibility of a feature film. Hugh and Mads [Mikkelsen] are very committed to the show. There may be a break and then we'll find a way to bring Hugh and Mads back to you," he said.
In addition to Fuller, the panel included executive producer Martha De Laurentiis as well as cast members Hugh Dancy and Richard Armitage, who plays Francis Dolarhyde, aka The Red Dragon. Noting one of the fandom's favorite accessories, Dancy looked at the crowd and said, "There must be no more flower crowns left in the world!" A few of the crowns were thrown onstage and Fuller, Dancy and Armitage wore them for the rest of the session.
The opening teaser reel included a longer sneak peek at the Red Dragon storyline:
https://www.youtube.com/watch?v=loOgfXNs-VI
Asked about his interpretation of Francis Dolarhyde, Armitage said: "I started with the book and saw how detailed Thomas Harris's writing was. He's uncomfortable in his own skin. I actually did put on a new skin and that was the start of the creation of the dragon. Dolarhyde has an innocence to him. It fluctuates between a childlike mind and a sick man. I spent a lot of time naked and semi-naked, weirdly wearing the tattoo, which is a kind of clothing to him."
Armitage also described how he spent many hours in the makeup trailer getting the full-body tattoo and how the makeup artist had to paint his bare bum, for which he thanked her. Fuller also teased that there's new music in the Red Dragon arc and the composer is Siouxsie of Siouxsie and the Banshees. "It's like a James Bond theme," he said.
One questioner asked how the show would handle Dolarhyde's predilection for raping his victims. "There are implications of his sexual deviancy. I didn't want to tell rape stories. It became more about the assault on the family unit than the assault on the woman in the family unit," Fuller said. "We listened very carefully to our audience and we know who our audience is. You should only do a rape story when you can dedicate a lot of real estate to what's involved for everyone associated with it, or it's thin and shallow. We minimized a bit and didn't pronounce it too much. I didn't want to see it myself – it's pretty buried."
Dancy teased that there will be a time jump of three years between next week's episode and the one airing July 23, saying "Will has retreated from the world of FBI and Hannibal and found a life for himself but that doesn't last very long."
The Fannibals came armed and ready with queries for the panel. When asked, "if you had to die in any way a character on the show has died, what would you choose?" Fuller said, "I hope my initial death was quick. I wouldn't mind being a cello and having someone play me," while Dancy opted for "the guy in the tree."
Asked about his inspirations, Fuller said: "David Lynch – I'm so excited about the new Twin Peaks—David Cronenberg's body dysmorphia, Tony Scott's The Hunger, Stanley Kubrick, visually aggressive filmmakers. I try to do the same with Hannibal.
The conversation finally turned to the immense amount of fan love the show gets from viewers. Fuller said it's the thing he'll miss the most if the show ceases to be. "The connection we've had with this special fan community is so supportive and passionate. We'll take them wherever we go," he said. "It's inspiring and beautiful to have a low-rated show and then you look at the response of the Fannibals and it's the best hug you can imagine."
Hannibal will finish out its delicious final season Thursday nights on NBC.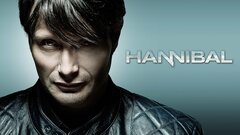 Powered by