During Mad Men's Series Finale, AMC's Sister Networks will Black Out Programming During Mad Men's series finale, AMC's sister networks will black out programming
BBC America, IFC, Sundance and WEtv will instead show a special message paying tribute to Mad Men. PLUS: AMC will marathon every Mad Men episode starting on Wednesday, Don Draper's motel exists in real life, and watch the final Mad Men trailer.
ABC to celebrate Disneyland's 60th anniversary with a live primetime special
The February special will air live from Disneyland.
Read Jimmy Kimmel's jokes from ABC's upfronts
"We're so diverse, when CBS drives by us they lock their doors," Kimmel said at today's presentation. He added: "We are committed to diversity at every level of our organization. Except The Bachelor, we're gonna keep that one white." PLUS: Kimmel brought out his baby daughter Jane, telling advertisers: "When this network reboots 'Paul Blart: Mall Cop' to make it into a series (in 2032, when she graduates high school), I want to make sure she can pull up and watch it on ABC. For free. Only you can make that happen." And Kimmel poked fun at Empire, Brian Williams, Fox, ABC, NBC.
Paula Abdul on Idol's cancelation: "I left the show at the top"
Abdul says, "after I left, my presence, it felt different, and then a year later Simon left, and it feels different and many years later Randy left…"
Eric Stonestreet joins HBO's Anita Hill Confirmation film
The Modern Family star will play Ken Duberstein, whom President George H.W. Bush tapped to get Clarence Thomas appointed as a Supreme Court justice.
How Rob Lowe is juggling new shows this fall on NBC and Fox
Fox's The Grinder star is also playing a priest this fall on NBC's You, Me, and the End of the World. But since the NBC comedic drama has already wrapped production and since it's expected to be a limited series, Lowe should have no conflicts with his Fox sitcom.
Unforgettable adds La La Anthony
The actress and VH1 reality star will join the A&E series as an up-and-coming medical examiner.
Mayweather vs. Pacquiao shatters pay-per-view records
The "Fight of the Century" generated $400 million in revenue from 4.4 million customers.
Tom Bergeron sticks up for Erin Andrews
"This is NOT eye rolling! This is trying not to cry face!" he says of last night's Dancing with the Stars controversy.
Comedy Central is promoting Season 2 of Review with a #FindForrest campaign
If you find Forrest MacNeil, Comedy Central has set up a customized e-mail address and phone number for you to call.
Paul Scheer recreates MTV's TRL
After recreating Arsenio Hall's talk show, Scheer has decided to impersonate Carson Daly. Scheer is joined by Silicon Valley's Thomas Middleditch and Ryan Hansen as boy band members.
Coming this fall: Another music awards show
Live Nation will launch the Live Nation Music Awards on Oct. 1 on TBS and TNT.
Did Jane the Virgin's twist go too far?
Even for a telenovela, that final Season 1 twist was "unnecessary and cruel." PLUS: Producer says the twist would "make me lose my breath," the season finale delivered on the pilot's promise, how Justin Baldoni reacted to the twist, and the narrator is Jane's best character.
USA orders drama Queen Of The South
The drug cartel drama is based on the book La Reina Del Sur by Arturo Pérez-Reverte.
Watch Nina Dobrev scare Conan
The Vampire Diaries star added Conan O'Brien to her #scareseries.
Empire brothers reunite on the cover of Essence
The magazine goes "deeper with Empire's baddest brothers."
Gossip Girl stars are helping Kelly Rutherford in her campaign to get her kids back
Matthew Settle and Ed Westwick have come out in support of their former co-star, who lost custody of her two young kids to her ex-husband who lives in France and who's barred from entering the U.S. PLUS: Chace Crawford and Ed Westwick are returning to TV.
Syfy orders genre-focused talk show Reactor
Comedian David Huntsberger will host the weekly show that will mix interviews with sketches and exclusive clips.
Watch the trailer for History's Texas Rising
Bill Paxton, Brendon Fraser and Kris Kristofferson star in the Memorial Day Weekend miniseries on the Texas Civil War.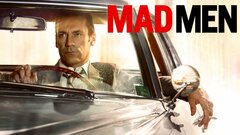 Mad Men
where to stream
Powered by