Derek Hough 'Teaches' Howie Mandel How to Dance in New NBC Promo (VIDEO)
It can be intimidating to get up in front of the judges of NBC competition series like America's Got Talent and World of Dance and show off your skills, but we're here to make that seem a little less scary.
In a hilarious, TV Insider exclusive video, which you can see below, World of Dance judge Derek Hough stops by to visit the America's Got Talent judges Heidi Klum, Mel B and Howie Mandel to teach them how to dance.
We're not sure how much teaching actually went on here, but the end result of Mandel dancing on a table proclaiming, "This is my World of Dance. Go ahead. Judge," is worth a watch.
While the classic AGT is currently airing Season 12, network newbie World of Dance just nabbed a Season 2 renewal from NBC.
The competition is currently in Round 2 (of 5) dubbed "The Duels." Only five acts from each division will advance to Round 3 "The Cut," which begins on July 18, and will feature ballet dancer Misty Copeland as a guest judge. From there, only six acts total will remain for the final two rounds of the 10-episode competition.
World of Dance, Tuesdays at 10/9c, NBC
America's Got Talent, Tuesdays at 8/7c, NBC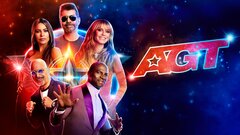 Powered by