The Roush Review: Should Grey's Anatomy End This Season?
In the tiresomely metaphorical merry-go-round of Meredith Grey's (Ellen Pompeo) grieving mind, she keeps hearing her late mother say, "The carousel never stops turning." At some point, it needs to.
No show is meant to last forever–well, maybe the immortal The Simpsons, which recently announced a renewal into its 28th season. But with the sudden and shocking death of Derek "McDreamy" Shepherd (Patrick Dempsey) 11 years into the run of Grey's Anatomy, leaving its title heroine without her romantic soul mate or even her BFF "person," Cristina (Sandra Oh, who left at the end of last season), isn't it about time for these woeful docs to finally throw in their scrubs?
In a series that often tackles thorny issues like dying with dignity, Derek's melodramatic demise by automotive and medical mishap may have robbed Grey's of that option for good. Not that ABC is likely all that eager to shed a linchpin of what for half the year is an all-Shonda Rhimes-produced night of guilty-pleasure escapism. Sure enough, when ABC announced its new fall slate this week, entertainment president Paul Lee affirmed he hopes Grey's has many more years to go—and Pompeo took center stage during the presentation at Lincoln Center as one of Rhimes's leading ladies, reinforcing the network's belief in the show's staying power. Still, creatively speaking, there's nothing worse than watching a longtime favorite wear out its welcome. (By this point in ER's even longer run, I had already bailed.)
Contrast the Grey's situation with that of FX's Justified, the cool contemporary Western that a year ago started to feel like it was losing focus. Roaring back for a sixth and final season, colorfully grounded on the Kentucky home turf of its appealing hero, U.S. Marshal Raylan Givens (Timothy Olyphant), the drama built to a grandly suspenseful, entertaining, and satisfying finish. Significantly, it managed to keep alive the majority of its most memorable characters, whether white or black hat. Going out on its own terms, Justified even left us wanting more.
To be fair, it's not always easy to consider an exit strategy when new hits are so hard to come by. But sometimes the writing is on the (Hamptons) wall, as with ABC's Revenge, which pretty much ran out of Graysons for Emily to exact revenge on after four seasons.
With Grey's, there's still a large ensemble of characters with potential stories to tell in Meredith's orbit, but without its leading man, it now seems an awfully hollow exercise. Sure, life goes on, but does the show have to?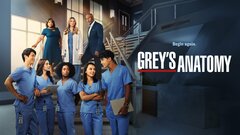 Powered by