'Rick and Morty' Promises the Return of Mr. Meeseeks
Wubalubadubdub! Adult Swim's Rick and Morty have crash-landed at San Diego Comic-Con, and the show's co-creators Dan Harmon and Justin Roiland and writer/producer Ryan Ridley have been on-hand to answer questions about season 2, which premieres on July 26.
According to reports from i09 and Bleeding Cool, Harmon and crew hinted (in a pre-panel interview) that new episodes would give some insight into Rick's past by introducing one of his former lovers. The show's creators also mentioned that female characters Summer and Beth will feature more prominently in the upcoming season.
Summer has adventured with Rick before in episodes like "Something Ricked This Way Comes" and "Raising Gazorpazorp," and Harmon and Ridley made a point of saying that the Rick-Summer dynamic will be explored even further next season. Could this mean more roiding out to DMX or another visit to the matriarchal planet Gazorpazorp? Based on Harmon's responses at Friday's panel, probably not.
Throughout season 1, the whole family also had its fair share of "high-concept sci-fi rigmarole," but the show's creators are committed to expanding non-Morty centric plotlines. Although Harmon dashed fans' hopes that they would learn more about Evil Morty's nefarious dealings (seen on the season 1 episode "Close Rick-Counters of the Rick Kind"), he did confirm a cameo return of Mr. Meeseeks, the breakout star (and true fan favorite) of season 1.
This is great news, as Harmon had been cautious about falling into a rut of inside jokes and trying to avoid bringing back too many side characters from season 1, a decision he sometimes regretted after seeing some auxiliary characters become popular.
Catch a season 2 preview of Rick and Morty at Adult Swim's Green event at Comic-Con on Friday, from 8:30 to 10:00 pm PT.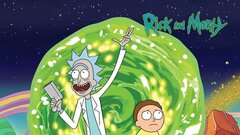 Powered by