Matthew Weiner Mocks a Popular Mad Men Finale Theory, with Conan's Help Matthew Weiner mocks a popular Mad Men finale theory, with Conan's help
Weiner shared an "exclusive" clip from the final episode from tonight's visit on Conan. PLUS: Weiner tells NPR's Fresh Air: "I'm staying off the Internet for my health."
George R.R. Martin's books editor slams Game of Thrones' Season 5 changes
Jane Johnson tweeted that she's "not loving these huge divergences," adding that Season 5 "has gone completely rogue now."
CW greenlights The Flash/Arrow spinoff DC's Legends of Tomorrow, plus Crazy Ex-Girlfriend and Cordon
The spinoff stars Arthur Darvill as "time-traveling rogue" Rip Hunter who assembles a team of villains and heroes played by Victor Garber, Brandon Routh, Dominic Purcell, Caity Lotz, Ciarra Renee, Franz Drameh and Wentworth Miller. Comedian Rachel Bloom stars in drama Crazy Ex-Girlfriend, playing a potentially crazy woman who leaves Manhattan to look for love in the L.A. suburb of West Covina. And Cordon is a drama about an epidemic from The Vampire Diaries and Originals boss Julie Plec. PLUS: CW cancels The Messengers.
Watch the 1st promo for Bruce Jenner's Keeping Up with the Kardashians special
"I don't think I've ever been as scared in my life as I was to be extraordinarily honest with my kids," he says in the About Bruce special.
Tina Fey's goodbye gift to Letterman: The dress off her back
"What am I going to put a dress on for Jimmy?" she said of Jimmy Fallon. "That's creepy, he's like my brother."
Sofia Vergara gets a Hollywood Walk of Fame star
Modern Family co-creator Steve Levitan joked that Vergara had a "breathtaking a**, "adding that "she has a ridiculous knack for finding a laugh, which is extremely rare. She's Lucy and Ricky, with a touch of Sophia Loren."
"Big Bird" Caroll Spinney shared a heartbreaking story on Reddit
The Sesame Street star recalls the time he made a dying boy smile.
Chris Jericho the new version of Tough Enough
The "Ayatollah of Rock and Rolla" will star in the remake of the MTV and USA wrestling reality show.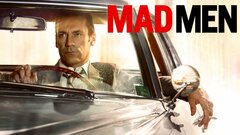 Mad Men
where to stream
Powered by