50 Years of Days of Our Lives: Kristian Alfonso Picks Her Top Moments
It's been 32 years since the great Kristian Alfonso hit NBC's Days of Our Lives as Hope Williams and she remains one of the most incandescent talents on the soap scene today. To help celebrate Days' upcoming 50th anniversary, we asked the beloved actress to pick her most favorite Hope moment but she refused. She had to pick three! "I have been blessed with so many incredible storylines over the years," Alfonso says. "I just can't narrow it down to one." What royalty wants, royalty gets! Check out these incredible clips:
Bo and Hope at Oak Alley Plantation (1984) "Pete Reckell and I had a ball going on location to New Orleans and taking the Bo and Hope romance on the road," Alfonso recalls. "It was a very different kind of relationship for soaps–fresh and fun and full of one-upmanship. Hope was so feisty and Bo was such a bad boy. He would say "No!" to her all the time–but too late! She'd already be off doing exactly what he told her not to do. It led to so much trouble and Bo would inevitably have to play the hero and save his Fancy Face. I remember those early years with great fondness."
[jwplatform 6sMmFc5F-gdaXI0eR]
Princess Gina (1998) "It was the acting challenge of my life," says Alfonso of her indelible double-duty stint. "In fact, if they'd told me up front that the Princess Gina story was going to go on for a year and keep snowballing and evolving in all these wild directions, including Hope being pregnant and the baby-switch storyline, I would have been scared to death. Everything about that story was so gorgeous–the sets, the wardrobe. That was back when we still had money! One day, I had seven costume changes, each dress more beautiful than the last. It was insane!"
[jwplatform l6Buf2UZ-gdaXI0eR]
Zack's death (2006) "There's nothing sadder than a parent experiencing the loss of a child," says Alfonso. "But, just to make it even more heartbreaking, the driver who took the life of Bo and Hope's son was Bo's daughter, Chelsea. And the accident happened on New Year's Eve. It was all so horrible. I was emotionally exhausted, just drained at the end of every work day. I couldn't stop crying but, as hard as that story was to play, it was also very beautifully written. I consider it a great gift.
[jwplatform uvTn1Pxl-gdaXI0eR]
For more top Days of Our Lives moments, check out or earlier interviews with Deidre Hall and executive producer Ken Corday.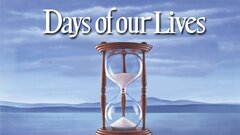 Powered by