Nasim Pedrad Talks 'People of Earth': 'Alex Doesn't Really Believe in Aliens'
The out-of-this-world comedy about Ozzie Graham (Wyatt Cenac), a writer in a support group for alien abductees, gets more human in Season 2, when Saturday Night Live vet Nasim Pedrad joins the cast as FBI agent Alex Foster. After shooting herself in the foot, literally, Alex is demoted to the backwoods of Beacon, New York, to take down Ozzie's former boss, Jonathan Walsh (Michael Cassidy), for cash fraud. Unbeknownst to Alex, under Walsh's white collar is green skin—he's one of a group of alien races with possibly nefarious intentions toward mankind. Pedrad leaked us some classified info.
Does Alex suspect that Walsh is an alien?
She doesn't really believe in aliens. She's more focused on redeeming herself after the foot fiasco!
Tailing Walsh introduces Alex to Ozzie and his friends. What's her take on them?
She respects Ozzie as a journalist, which is why she's so perplexed that he's there. She's willing to endure the other members if it gets her to Walsh.
When you consider the possibility of extraterrestrials, what's your first thought?
My instinct is, "I don't really need that," but I could be into it if they weren't murderous.
Do you believe in anything that others might find crazy?
Culottes on men.
People of Earth, Season Premiere, Monday, July 24, 10:30/9:30c, TBS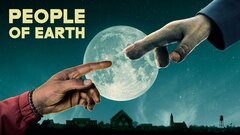 Powered by