Nat Geo Takes 'Earth Live' to the Movies (VIDEO)
There may be portions of the world on the government's no-no list right now, but on July 9, the entire globe is open for business, thanks to the National Geographic Channel. That night, Earth Live will offer arm-chair adventurers access to the far corners of the planet in an epic, live-TV special exploring the animal kingdom in real time from 25 different locations in 15 countries on six continents.
Hosted by Jane Lynch and Amazing Race's Phil Keoghan, the two-hour event is using over 50 cameras positioned in various spots across the map to capture the activities of everything from bull sharks, humpback whales and crocodiles to wolverines, hyenas and Sterling Archer's favorites, ocelots (Babou!).
Again, this will all air in real time, so there's no way of knowing what these beasts will bring to the party. Viewers who want to get a little more wild, however, can make it a night out by hitting one of the many in-theater simulcasts being planned by Fathom Events. Not only will you get to see Earth Live in air-conditioned comfiness, the entire thing is FREE and admission comes with a gift card to cover your snacks at the concession stand!
So if you're in one of the markets hosting screenings at select AMC, Cinemark and Regal Entertainment Group locations (Atlanta, Boston, Chicago, Dallas, Detroit, Houston, Los Angeles, Minneapolis, New York, Philadelphia, Phoenix, San Francisco, Seattle, Tampa, and Washington, D.C.), register for passes here. And just make sure not to wander into the theater running Rough Night. Seriously, yikes.
Earth Live, Sunday, July 9, 8/7c, National Geographic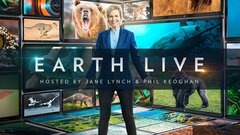 Powered by