'Sense8' Will Return…for a 2-Hour Special in 2018
Sense8 fans will get a chance to say goodbye to the beloved and recently canceled Netflix series. Co-creator Lana Wachowski took to the Sense8 Facebook page on Thursday to announce a two-hour special that will wrap up the show's story. The special will stream in 2018.
Read Wachowski's full statement below:
Wachowski's letter seems to leave room for a possible revival. "It is my great pleasure as well as Netflix's…to announce that there will be another two hour special released next year. After that… if this experience has taught me anything, you NEVER know," Wachowski wrote.
Sense8 was canceled by the streaming network after two seasons. The series followed strangers around the world who become inexplicably linked. Fans mounted a campaign to persuade Netflix to bring the show back, but to no avail.
"It is everything we and the fans dreamed it would be: bold, emotional, stunning, kickass, and outright unforgettable," Cindy Holland, vice president of Netflix original content, said when the show's cancellation was announced. "Never has there been a more truly global show with an equally diverse and international cast and crew, which is only mirrored by the connected community of deeply passionate fans all around the world."
In recent weeks, in addition to Sense8, Netflix also canceled freshman series The Get Down and Girlboss.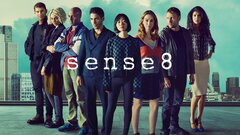 Sense8
where to stream
Powered by