'MasterChef' Preview: Gordon Ramsay Makes His Scramble 'Eggs-Actly' Right (VIDEO)
It's finally happened. Gordon Ramsay has cracked—but in the tastiest way possible.
The British chef has eggs on his mind, and if the MasterChef contestants don't pay close attention, they'll have egg on their faces.
In this exclusive clip from Wednesday's MasterChef episode "Shell-Shocked & Scrambled," Ramsay is demonstrating his technique for the perfect scrambled eggs. And whoever is least successful in re-creating this Gordon Ramsay breakfast classic will be forced to leave the kitchen.
Watch Gordon Ramsay demonstrate how to make the perfect scrambled eggs…
What do you think of Chef Ramsay's scrambled skills? Will you give it a try?
Also in the episode, the top 18 chefs will face a mystery box challenge that includes cooking some of the world's finest shellfish.
MasterChef, Wednesdays at 8/7c, Fox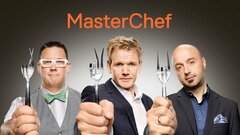 Powered by