American Crime: Emotions Are High, Justice Is Questionable
Everything changed at the end of American Crime's April 30 episode. An unexpected confession torched any notion that the shocking murder of Matt Skokie (Grant Merritt) and the attempted killing of his wife, Gwen (Kira Pozehl), was a hate crime.
Tonight the revelation casts aspersions on Matt that his mother, Barb (Felicity Huffman), cannot ignore, which leaves only his father, Russ (Timothy Hutton), fighting for him. It rendered the testimony of illegal immigrant Hector Tonz (Richard Cabral) useless, so the courts can rescind his deal and hand him over to the Mexican authorities. And it means ­another character could be going to jail soon. But it doesn't mean that addict Carter Nix (Elvis Nolasco), who's awaiting trial for Matt's murder, is going to be released from prison.
"Carter Nix just doesn't fit in society," says Nolasco. "He doesn't see the world through the lens that other people do. He's color-blind. He doesn't understand separation and class and all that stuff. And unfortunately, that's what's making him make bad decisions that keep leading him where he's ending up."
And while the May 14 finale promises more surprises in Matt's case and shockers concerning many characters' fates (hint: don't trust the justice system), it still adheres to American Crime's credo of being a primarily human story. "Emotions run high," Nolasco says. "There will be twists in certain characters' journeys. But many people will get hope and a new beginning. We're also not going to leave things up in the air. There's going to be closure. You'll see where Hector's going. You'll see Barb soften up a bit. You'll get resolutions."
That's key, Nolasco says, considering the effect the controversial, unflinching show has had on many people. "I got a beautiful message from a drug counselor, expressing how one of her clients is watching the show and [that] seeing Carter has helped him get some understanding of his own battles. And ­another from a woman whose brother died from the disease of addiction, saying how the show helps her mourn," he says. "I'm getting a little emotional just saying it."
American Crime, 10/9c, ABC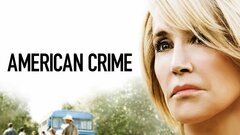 Powered by