'Masters of Sex's Caitlin FitzGerald Shares Her Character's Ideal Date (VIDEO)
https://player.waywire.com/?id=M3C2W22BLB6QQ4HH
Ever wonder what it's like to audition for a TV show? Masters of Sex actress Caitlin FitzGerald, who plays the oft-neglected Libby Masters, the wife of Michael Sheen's Dr. William Masters, stops by our studio to give us the scoop. Watch our video interview (and read highlights below) to learn more about her nervewracking audition process, the show she wants to guest star on, and her social media platform of choice.
How does one audition for a show about sex?

[Laughs] What are you suggesting?! I slept with no one to get this part if that's what you want to know.

Which shows do you like to binge watch?

I love, love Orange Is the New Black. I think that's smart television. I'm deep into Friday Night Lights, and all I can think about is Texas football at the moment.

Who should your character date?

I'd like her to have a really fun weekend in South Beach with Don Draper, maybe.
Masters of Sex, season 3 premiere, Sunday, July 12, 10/9c, Showtime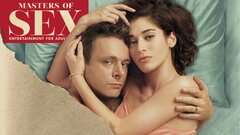 Powered by