The Briefcase: Inside the New CBS Reality Experiment
CBS is hoping to strike it rich with its new reality series, The Briefcase.
From The Biggest Loser creator Dave Broome, The Briefcase focuses on American families experiencing financial hardships who are presented with a briefcase containing $101,000 in cash. Their decision: whether or not to keep the money for themselves or give some or all of the money to another family in need. Little do they know that the other disadvantaged family has also been presented with a briefcase of their own and is struggling with the same predicament.
"One of the areas I wanted to tackle deals with our values," Broome tells TVInsider.com. "It figures out what matters most in people's lives by putting this financial windfall in front of two families, but they have a dilemma that comes with it. There's no right or wrong in the course of these episodes, but I was absolutely shocked at the human spirit."
[jwplatform 4i97JOE6]
The participating families range from an injured retired Iraqi vet and his nurse wife to a family whose New Jersey house was destroyed in Hurricane Sandy. There is even a same-sex married couple trying to have a baby via in vitro fertilization. "I was looking for typical middle class deserving families, but I wanted diversity at every level," Broome says. "When unscripted reality television works best is when you can see the representation of America in your cast."
Broome also notes that The Briefcase is bucking the traditional standards of network reality series by not including a host and not editing around the presence of the executive producers or the camera crew. "A host felt like it would turn this into a game show where at the end of the day, this is real life," Broome says. "You see the crew, you see my camera guys crying and you see the dirtiness of what you would typically never see on television."
The families have 72 hours to decide how much money they will keep or give away, and throughout that period, they are presented with information about the other family's income, culminating in a visit to each other's houses to get a first-hand account of their living situations. They then fly to Los Angeles for the final reveal. "It sparks all kinds of conversation and debate, " Broome says. "The question is what would you do? People are going to really scream at the television sets in a good way."
The Briefcase's six-episode run begins Wednesday, May 27 at 8/7c on CBS. It is produced by 25/7 Productions and distributed by Sony Pictures Television, with Broome and Faye Stapleton serving as executive producers.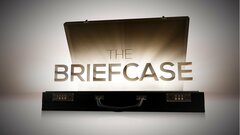 Powered by