Wayward Pines: Mysteries and Major Deaths from the Set of Fox's New Series
It's the perfect night for a public execution.
As the sun sets over the mountains of Agassiz, British Columbia, located about 70 miles east of Vancouver, temperatures dip to just above freezing and a chilling steady rain begins to fall. Dozens of extras from the new Fox series Wayward Pines gather on the main thoroughfare, Pioneer Avenue, and position themselves at the rear of a flatbed truck, the site of the grim spectacle. The vehicle is equipped with an elaborate rigging system; heavy chains will eventually hoist the victim, whose–spoiler alert!–throat will be slashed, to his or her feet. While the rain gets heavier, tension fills the air as actor Terrence Howard, dressed in a sheriff's uniform, starts to pace on top of the truck as cameras prepare to capture the horrific moment.
The cast and crew are filming only the second episode of Wayward Pines, but a major character is about to meet an untimely death in front of an angry mob. Behind the scenes, however, you would never know the end was near. As the crew takes hours to prepare the shot, the blood-soaked actor in question darts through the waiting crowd, chatting with colleagues and singing the Katrina and the Waves '80s classic "Walking on Sunshine."
Yes, the jovial moment is odd–yet it doesn't feel out of place on the set of a show like Wayward Pines, where odd moments are common. Pines tells the story of Seattle-based Secret Service Agent Ethan Burke (Matt Dillon), who is sent on assignment to locate two missing colleagues, including his former partner and lover, Kate Hewson (Carla Gugino). After surviving a serious car accident, Ethan wakes up in the hospital of Wayward Pines, Idaho, and quickly realizes that things in town are amiss. Speakers hidden in the bushes emit cricket chirps, an electric fence surrounds the perimeter, and quirky residents, such as stern Nurse Pam (Melissa Leo) and lackadaisical Sheriff Arnold Pope (Howard), keep a close eye on Ethan's every move.
"It's one of those shows where you go, 'What the f–k is going on here?'" says executive producer Chad Hodge (The Playboy Club). "Something is wrong in this town, and there are reasons the people who are there, are there."
The 10-episode limited series is based on the Wayward Pines trilogy of novels by Blake Crouch; the pilot was directed by acclaimed horror auteur M. Night Shyamalan (The Sixth Sense, Unbreakable) and marks his first foray into television. "I was always fearful of TV," Shyamalan admits. "I've been making movies since I was a teenager, so I felt as if that two-hour format had its own rules and understanding that was in my genetics."
Shyamalan, also an executive producer, says he was drawn to the project because of its dark humor and the "weirdness" of the mysteries that unfold. The director was also instrumental in assembling the high-profile cast, which includes four Oscar nominees: Dillon, Howard, Leo (who won best supporting actress for The Fighter), and Juliette Lewis, who plays bartender Beverly. "He's not a particularly mystical person, but Night has a very unique sensibility about the world," says Leo.
"It's a very definite area that he's interested in," says Toby Jones (town psychiatrist Dr. Jenkins) of Shyamalan, "the creation of microcosms, religion, utopias, and dystopias. That seemed to be what this show's about, so it felt like we were in the hands of someone whose fascination with it would give it a good start."
Wayward Pines is also the first regular series TV role for Dillon, whose movie credits include There's Something About Mary, Crash, and Wild Things. "This kind of story couldn't be told in a feature, yet it's not necessarily a typical TV series," he says. "But no matter what grand schemes are put together in the story structure, everything we're doing is grounded and logical. Wayward Pines is revealing itself to me at the same time it's revealing itself to Ethan."
Dillon had to ready himself for the physical demands of the role. Postaccident, Ethan stumbles through Wayward Pines with countless cuts and bruises, and his investigation gets him into trouble with a few of the locals. "I was climbing a pine tree the other day," the actor says proudly, as a smile creeps across his face. "Even simple things like fight scenes or just running up stairs can take its toll on you after a while, just because it's all day long."
Ethan's quest for answers soon leads him to Kate, the 27-year-old agent with whom he had a ­romantic fling only five weeks prior. But Kate, who now appears to be in her late thirties, tells Ethan she has spent the past 12 years living in Wayward Pines with her husband, Harold Ballinger (Reed Diamond). "Ethan's feelings for her are still very raw and alive," Dillon says. "It's a guy being drawn back into the very thing that is his undoing, so it takes him to a much darker place." Seeing Ethan again leaves Kate feeling off-kilter, Gugino says. "He reminds her of the person she used to be, and that is very disconcerting to her."
Since Ethan's wife, Theresa (Shannyn Sossamon), and son, Ben (Charlie Tahan), are not getting any information from the Secret Service as to Ethan's whereabouts, they soon head to Wayward Pines. "They find Ethan there with Kate," Hodge says, "so there is a crazy love triangle."
Back on Pioneer Avenue–which the production team has built up with facades for a movie theater, hotel, and beer garden–Ethan and the citizenry are forced to witness a gruesome display of violence. Signs posted in the windows of the businesses list a variety of unsettling rules: do not try to leave. do not discuss the past. always answer the phone if it rings. Tonight's victim, who did not obey one or all of these orders, repeatedly emits bloodcurdling screams as the crew films ­multiple takes of a knife slashing across the neck.
"This is not for shock value; this is the truth of this town," Hodge says between setups. "Ethan and viewers have to know what they're up against. It's quite shocking, horrible, and very, very cutthroat."
Wayward Pines, Series premiere, Thursday, May 14, 9/8c, Fox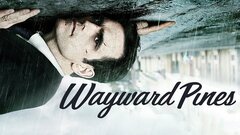 Powered by