First Look: Meet the New Students on Are You Smarter Than a 5th Grader?
More than six years after ending its run on Fox, the quiz show Are You Smarter Than a 5th Grader? returns next month with a brand-new group of kids. The game's the same (with a few new tweaks): Six kids help grown-up contestants try to make as much as $1 million.
The game centers on 11 increasingly difficult grade-school questions, taken from first-through-fifth grade textbooks. After a player correctly answers the first 10 questions, a sixth grade question is worth $1,000,000.
Here's this season's batch of students:
Angela, 9 (Northridge, Calif.) Angela wants to be an author and write stories that people will love. She has a little dog-named Bentley who helps her with her homework and is her "study buddy." One of her heroes is Betsy Ross, whom she dressed up as at school one day. She was "Darth Vader" for Halloween and can do a great impression. Her mom is a principal, which Angela loves because she can help with her homework.
Dee, 10 (Jonesboro, Ga.) Dee has a 16-year-old brother and a brand-new brother, and is excited to finally be the big brother himself! He loves all things Japanese, from animation to comic books to drawing pictures. He also loves video games and is a big fan of Britney Spears. He likes wearing glasses, because nerdy is now "cool." He's from a small town in Georgia, just like Jeff Foxworthy.
Lauren 10 (Riverside, Calif.) Lauren comes from a family of nine children (including one set of triplets). She is the second-oldest child. The family also includes lots of pets – two dogs, a cat, a fish and a hamster. She loves, loves, loves to read and already has finished both the "Harry Potter" and "Percy Jackson" series. She loves to dance. It's what makes her the happiest. She also is a talented gymnast.
Mason, 10 (Woodland Hills, Calif.) Mason is homeschooled and thinks his teacher is the most beautiful woman he's ever met (his mom). He loves skateboarding, baseball, swimming and football – especially the Oakland Raiders. His parents are Hispanic and own a tortilla company. His favorite food is bacon fried rice, which he and his mom make all the time. He wants to be a comedian when he grows up.
Reagan, 10 (Olive Branch, Miss.) Reagan loves to sing and has performed the National Anthem before a Memphis Grizzlies basketball game. She plays softball and kickball, and has put soccer next on her list to play. One of the biggest moments of her life was meeting Taylor Swift. She loves mysteries and she loves to read Nancy Drew. She dreams of going to New York City and seeing the Statue of Liberty.
Tres, 10 (Helotes, Texas) Tres is the fifth grade Student Council President, and wants to be a defense attorney when he grows up. He is a proud Texan and loves everything about Texas. He plays classical piano, and his favorites are Bach and Beethoven. His favorite subject is history, because he loves to talk about the past with his Grandma.
Hosted by Jeff Foxworthy, Are You Smarter Than A 5th Grader? returns to Fox on Tuesday, May 26 at 8/7c. Here's a first look at the show's return.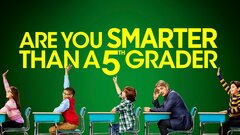 Powered by