Andy Samberg, John Cena, Daveed Diggs and More Power 'Tour de Pharmacy'
In the 1980s, if a cyclist was good enough to compete in the Tour de France, he was considered dope. As in doped up. At least according to Tour de Pharmacy, Andy Samberg's (Brooklyn Nine-Nine) second HBO sports mocumentary, after 2015's tennis-themed 7 Days in Hell.
See Also
On the eve of 'Bates Motel' readying its series finale, Freddie Highmore discusses his evolution into Norman Bates.
Set during the famous race in 1982, Tour de Pharmacy tracks the highs and lows (mostly highs) of five eccentric bikers, played by (above, from left) Daveed Diggs, Orlando Bloom, Samberg, John Cena and Freddie Highmore. (The fake documentary's bit players include James Marsden and Lance Armstrong, as himself.) None of the men's shenanigans (like a midrace fistfight) actually occurred. Neither did the doping scandal. But the cycling is totally real. "Orlando and James have real experience. Daveed and Freddie were pretty good," Samberg says. "[But] as an actor, the most challenging part of the shoot for me was not barfing every time I pretended I was in good enough shape to ride a bike more than 10 feet."
Tour de Pharmacy, Movie Premiere, Saturday, July 8, 10/9c, HBO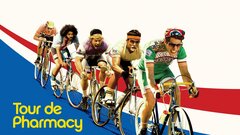 Powered by