'GLOW': How the Stars Learned to Wrestle for the New Netflix Series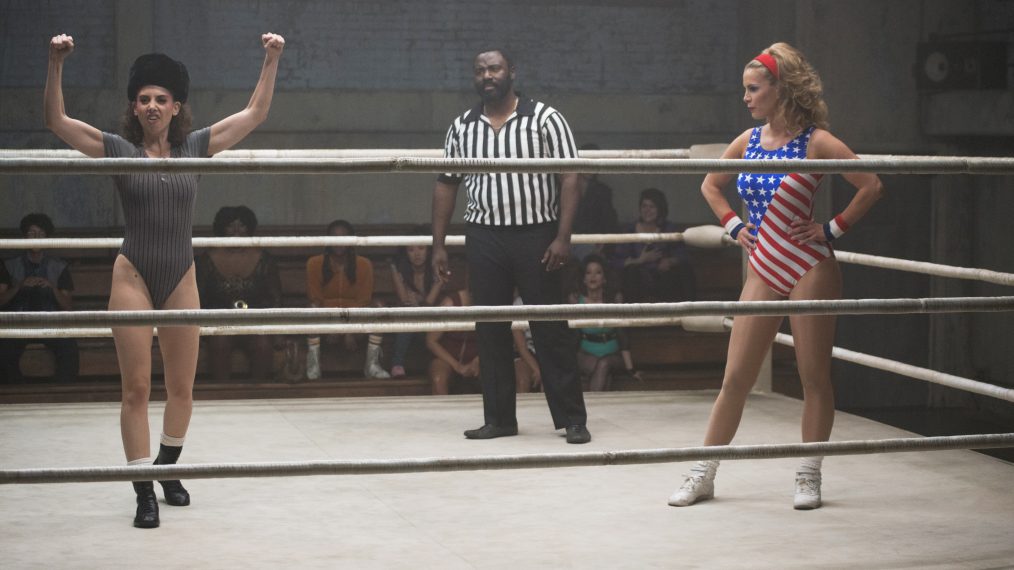 The women of GLOW, a new scripted dramedy coming to Netflix on June 23, took their roles as lady pro wrestlers very seriously.
Stars including Alison Brie (who plays Ruth Wilder) and Betty Gilpin (as Debbie Eagan) not only laced up the boots and donned the spandex. They spent multiple hours a day for around five weeks before filming honing their skills. They worked with wrestler Chavo Guerrero on set, which was complete with a training space and wrestling ring.
See Also
The Gorgeous Ladies of Wrestling are back for this 10-episode first season
The former WWE Superstar's uncle Mando actually coached those from the original Gorgeous Ladies of Wrestling (GLOW), a popular series that aired during the 1980's. Guerrero, who reached out to producers after he found out about the project, taught the women everything from running the ropes to bodyslams.
"I wasn't training them to have a WrestleMania match," he said. "At the same time, it's similar to when you're working with pro wrestlers. I'm training them to be safe, protect their opponent and not get hurt. They had to do moves for a scene 10 to 12 times, sometimes more.
"So they would have to do these same bumps over and over again. Really, my main objective is the same one I had with Lucha Underground or WWE, which is you have to keep yourself in the game. Don't do anything to get hurt or your opponent hurt."
Guerrero formed a bond with the cast, as they lovingly called him Uncle Chavo. During filming it was important for him to stay true to pro wrestling. He appreciated the fact the producers were open to his suggestions. Guerrero is proud of the finished product and impressed with the women of GLOW.
"Every one of them could have WrestleMania moments, for sure," Guerrero says. "Alison was excellent. She was an athlete who didn't know she was an athlete. I'd say, 'You know you are very good. You are very athletic.' She was like, 'I've never really done the athletic stuff before.' I think, though, all the girls would agree Kimmy Gatewood [Stacey] was good. We nicknamed her 'Kimmy Onetime' because she would get everything on the very first try. We all joked with her that she was a wrestler in a past life."
There weren't just novice grapplers on set. Kia Stevens (Tamee), known throughout wrestling circles as Awesome Kong, was a great asset to have for Guerrero. He quickly found out that despite Stevens' reputation for domination in the squared circle, she was the polar opposite in real life.
"She is just so nice and so sweet. I had two stunt girls on set, but they didn't know wrestling. So having Kia in there, she would help me explain something to the other girls by demonstration. Britt Baron started three or four days after the other girls due to a previous engagement. So when she came in on the first day of practice she saw me and Kia locking up. Not knowing Kia was a wrestler before, her jaw dropped. She was like, 'Are we supposed to be able to do this?' We all started laughing. I told her, 'No, Kia is one of best wrestlers in the world.' Britt thought I taught her all this in a few days. No, that's 20 years of experience."
See Also
The Gorgeous Ladies of Wrestling are coming to Netflix this summer in the scripted comedy series 'GLOW.'
MELROSE
Jackie Tohn plays the wisecracking, at times trouble-making Melrose. Oh, and she drives around in a limo. So there's that. She didn't come into the project totally blind with what she was getting herself into. Tohn grew up watching WWE (then the WWF) with her brothers. She gravitated toward the over-the-top, larger-than-life characters like Roddy Piper, Jimmy "Superfly" Snuka, Captain Lou Albano and Hulk Hogan. However, Tohn found out quickly that watching it and doing it were two different things.
"There are still people out there who say wrestling is fake," she said. "Then you get in the ring and you jump off the top rope to land on your back from 10 feet you think, 'Oh, I guess wrestling is not so fake.'… I think GLOW is going to wake many up to women in wrestling and how capable we, they all are."
The actress and musician found the role to be far more intensive than anything she has ever done before. Along with figuring out the character and how to embody it, there was the physicality to learn as well.
"Chavo is a hero," she said. "There was never a sense of, 'Jesus, these girls. These skinny little actresses trying to come in to do this. There was never that vibe. It was always, 'Okay, let's get in and go.'…The first day we are looking around the ring. We didn't even know how to get in the ring. Do you go over the top? Do you go in the middle rope? Do you climb up the turnbuckle and jump in? Do you crawl under the ropes? By day three it's just get in there, wearing sports bras and leggings, hop in the ring and lock up while staring someone right in the eyes. It's intense. It's amazing."
Tohn was grateful to have someone with the background of Stevens. To have a woman there who was versed in what the other actresses were trying to pick up made it all the more possible in her eyes. She learned to slow down and apply holds longer to portray more of a struggle. Just one of the tips Tohn felt made all the difference.
"I love Kia," she said. "I remember the first day when nobody knows each other from a hole in the wall. Chavo is teaching us how to lock up and circle. There is a ton of choreography involved. We don't know anything going on. He calls Kia in the ring to use her as an example. We don't know her. They lock up and start wrestling.
"We all start screaming. We had no idea she was a wrestler. It would have helped us to have Googled the woman we are standing next to in rehearsals. We all didn't know each other. She sort of showed up like we all did. It was very Bad News Bears. We were this ragtag group of girls. Then it turns out that Kia is this full-beast ass-kicker. You're like, 'Oh, cool. Good to know.'"
Much like the other girls and their characters, Tohn took to Melrose. She credits showrunners Liz Flahive (Homeland, Nurse Jackie) and Carly Mensch (Nurse Jackie, Orange Is the New Black, Weeds) and the writers who would hear cast's stories and gauge personalities, using the insight to incorporate it into the show.
"I'm having the opportunity to play someone who is similar to me. Although I will say more that she is similar to what I seem like and not who I am," she said. "Melrose is a party girl who does a bunch of coke and does music videos. I am none of those things. I'm not a big drug-doer or a big party person. I'm not a cigarette smoker, but if you look at me and hear me you would think I was smoking since in utero. So Melrose is the character that I have somehow played my whole life, but I'm not actually her. I do stand-up, so it's elements of an onstage persona and being brash. It's really an elevated version of aspects of myself. So when something is close to home, you can be pretty good at doing it."
TAMEE
Stevens found out about the project from agent Brian Wittenstein, who she knew from the wrestling business. He remembered she wanted to venture into acting, where she started out as a kid. Stevens submitted an audition tape for the role of Cherry Bang, which eventually went to Sydelle Noel. Instead she was given Tamee. The former women's champion used to watch the original GLOW with her brother and was excited to carry on the legacy.
"We were obsessed with Hollywood and Vine, and Matilda the Hun, and how mean they were. We couldn't understand why they were so vicious," she said. "We swore that if we ever met them on the street we had a plan that we would devise their doom. We loved Americana and the Farmer's Daughter. We tuned in every Saturday morning to see if Hollywood and Vine would get their comeuppance."
With years of performing around the world under her belt, Stevens had the advantage when it came to developing in-ring abilities. She likened wrestling to one fellow cast member as extreme slam dancing; choreography mixed with hits and bumps.
"I felt the girls picked up the moves very quickly. So to watch each transition and to remember how I was when I took my first bump. Then to witness theirs, I actually got a kick out of that. It was actually very nostalgic," Stevens said.
"We all super bonded. We are so disgusting with our love for one another. We check in with one another multiple times a day. It's really a true sisterhood. I'm sure it came with the few weeks we spent together and them learning how to wrestle. If were just given the script and showed up on set the first day I don't think the chemistry would be what it was and is. I attribute that to the wrestling camp we had. I'm so blessed to experience that."
Stevens couldn't wait to sink her teeth into the role of Tamee. Those who know her as Awesome Kong may be surprised to see a softer personality shine through.
"I thought with the role that finally people get to see closer to who I am. Kia is a total 180 from Awesome Kong," she said. "I'm silly and perky and a lot of fun. Awesome Kong is very serious. So to show this other side and dimension that people can relate to is great. When people approach me they have this one dimensional idea of Kong in their head. So to give the audience and world another dimension to approach me in is very exciting."
As someone who worked her way up the ranks in a male-dominated world, GLOW means more to her than she can describe. For Stevens, every story woven into Season 1 is something she witnessed or experienced herself.
"I can relate to everything we did and shot so far," Stevens said. "It's exciting to know that there is something in this for everyone. I'm glad now that people can understand wresting more. I do think people misunderstand wrestling. If you are not a wrestling fan, you kind of judge it a bit. There are even some wrestlers out there who may be ashamed to say what they do. I think this is going to affect people's attitudes toward wrestling.
"Once you see what we go through, I think it will soften people's opinion on wrestling. And this isn't just for women, by women. I don't care who you are on this planet. There is going to be something in GLOW you can relate to and appreciate. So watch!"
The 10-episode first season of GLOW arrives June 23 on Netflix.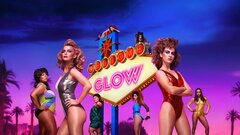 GLOW
where to stream
Powered by