Happy 4/20!: Pot Comedy High Maintenance is Jumping from Vimeo to HBO Happy 4/20!: Pot comedy High Maintenance is jumping from Vimeo to HBO
Vimeo's web comedy series about a Brooklyn pot dealer has received a six-episode order from HBO. In addition, all 19 previous episodes will be available for HBO subscribers. "High Maintenance has proven to be one of today's most highly-acclaimed online comedies," says HBO programming chief Michael Lombardo. "We are thrilled to bring this sophisticated and clever series to our HBO audience."
Watch the premiere of Happyish
Showtime has posted its Steve Coogan-starring comedy's 1st episode on YouTube ahead of its TV premiere. PLUS: Showtime posts a TV-14 version of the Penny Dreadful Season 2 premiere on YouTube.
Wes Craven is teaming with Syfy on 3 new horror projects
The horror guru will remake his 1991 classic The People Under the Stairs for Syfy. He'll also work on two horror-themed series, We Are All Completely Fine and Disciples. According to Deadline, the three projects "signal a horror push for sci-fi-focused Syfy network."
Why Jon Stewart is banned from Fox News
Fox News chairman and CEO Roger Ailes says of The Daily Show host: "Under the guise of comedy, he can do anything. He's figured out a way to win. But you don't invite a guy like that in-house to pick his ammunition and shoot you with it."
The Astronaut Wives Club gets an ABC summer premiere date
The 1960s-set drama, starring Yvonne Strahovski, JoAnna Garcia Swisher and Odette Annable, debuts June 18.
Bruce Jenner: My whole life "made me who I am"
Watch the latest promo for Diane Sawyer's interview, airing Friday.
The Last Man on Earth addresses its "drought in men"
Meet the newest addition to the Fox comedy.
Celebrate 4/20 with a Broad City weed compilation
Here are all the times Abbi and Ilana consumed marijuana. PLUS: A look back at TV's stoners.
Ugly Betty cast reunites
Five years after the ABC series went off the air, most of the cast gathered Sunday to celebrate America Ferrera's 31st birthday.
Mad Men characters seem to be as confused as viewers
The show has become its own Kodak carousel, says Jen Chaney. "The discomfort actually feels narratively appropriate for Mad Men right now," she says. "Don and others seem confused and incapable of breaking out of established patterns, and, as we watch them, Mad Men fans may also feel confused and convinced that the show itself is stuck in tired patterns. Our feelings, by design or not, are echoing the characters." PLUS: Here's Joan talking about her first divorce, and January Jones doesn't think Betty Draper will make a good psychologist.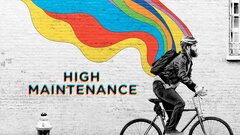 Powered by