Revolution Fans Rejoice, the Post-Apocalyptic Drama is Back (But Not as a TV Show)
Good news for Revolution fans: The show's executive producers and writers have reunited to give you some closure.
The Revolution team and Warner Bros. Television are putting together a special four-chapter digital comic book, in conjunction with DC Comics, to wrap up the show's dangling plot lines.
The four chapters will be uploaded every two weeks starting May 4, and continuing on May 18, June 1 and June 15 at www.comicbook.com. After a week, the comics will also be found on Revolution's Facebook page.
"While, unfortunately, we simply can't make more episodes of the show (alas, there are financial realities we can't overcome), we can do the next best thing," executive producer Eric Kripke wrote in a letter to fans. "Which is end the story. On our terms. Exactly the way we would have."
Revolution writers David Reed and Ryan Parrott wrote the four chapters, after regrouping in the writers' room and mapping out the story with Revolution's creative team: Kripke, Rockne O'Bannon, Paul Grellong, David Rambo, Trey Callaway, Anne Cofell Saunders, Ben Edlund, Matt Pitts and Jim Barnes. [The group, at right, even made room for a special guest: Tracy Spiridakos, who played Charlie Matheson on the show.]
DC Comics artist Angel Hernandez is illustrating the comics, which will also each sport a specially designed cover. Here's an early look at what Charlie Matheson, Miles Matheson and Sebastian Monroe will look like in the comics:
Revolution aired for two seasons on NBC, but was canceled last May. Since then, fans have bandied together under the #RelocateRevolution hashtag and maintained a campaign to try and bring the show back.
The digital comic idea came together under the oversight of executive producers Kripke, J.J. Abrams, Bryan Burk, O'Bannon and Jon Favreau. Revolution fans were sent abuzz last week when Favreau sent out this cryptic tweet:
Here's a letter to the fans from Kripke:
Dear Revolutionaries, Patriots, and Soldiers of the Monroe Militia,

So first of all—thank you. Seriously. Sincerely. The loyalty you've shown REVOLUTION these past months has been touching and overwhelming—it's meant more to me than you'll ever know. And in case you were wondering—yes, we've been listening. We've read the tweets. We've seen the incredible petition. We've followed #RelocateRevolution. Please know that you've been heard.

And solely because of your efforts, we wanted to pay you back—to give you something fantastic. And while, unfortunately, we simply can't make more episodes of the show (alas, there are financial realities we can't overcome), we can do the next best thing. Which is end the story. On our terms. Exactly the way we would have.

So J.J., Jon and I are pleased and proud to announce the REVOLUTION endgame: a four-issue series coming soon from DC Comics. If you take a look at the attached photo, you'll see that we brought back the entire writing staff to work on it. The band's back together! (And if you study the photo closely, you'll notice a certain young, plucky Matheson who also joined us). Everyone has generously agreed to work for little or no money. They're doing it, because like you, they're passionate about this story and want to see it end correctly.

So stay tuned. We've got lots of work to do. We'll keep you posted—in the coming months, you can expect more details, sneak peeks, and early artwork. But Miles, Monroe, Rachel, Charlie, Aaron, Neville and the rest will return for the epic finale to the REVOLUTION storyline. We hope you're as excited as we are.

And again—thank you. This is because of you. This is for you.

Much love,
Kripke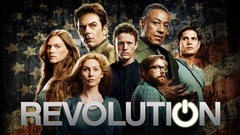 Powered by