Critic's Notebook: The Return of Gotham, a Meltdown at Bates Motel, Logo's Bold Cucumber-Banana Cocktail
Gotham can be so proudly bizarre and twisted, it's no surprise when "You had me at homicide" serves as an actual come-on line. The only upside to Fox's ghoulish Batman prequel having taken a six-week hiatus is that it now begins an uninterrupted four-week run, leading to the May 4 finale. In case you've forgotten in the interim, things have gotten mighty strange in Gotham City—and environs. The creepy sci-fi subplot in which the brazen Fish Mooney (Jada Pinkett Smith) finds herself trapped on a remote island of mad science, ruled by a Dr. Frankenstein (Colm Feore, chilling) whose name sounds like "Dollmaker" and whose pastime is stitching together victims with random body parts, feels like it's from a different and weirder show entirely.
While Fish plots her escape, back in Gotham City there's a suave serial-killing villain on the loose, code-named "the Ogre" (or "the Don Juan Killer," depending on the source), and played by former Heroes hero Milo Ventimiglia with a psycho sadistic streak more akin to The Following. When pugnacious Det. Jim Gordon (Ben McKenzie) is put on the Ogre's trail, there's a hidden agenda at work that could poison his best intentions to clean up the corrupt GCPD (embodied by a perfectly slimy Peter Scolari as Commissioner Loeb, the current occupant of the seat Gordon will eventually inherit).
Everyone's flirting with the dark side on Gotham these days, even young Bruce Wayne (David Mazouz), out to avenge the stabbing of his mentor Alfred (Sean Pertwee) with the help of amoral cat-girl Selina Kyle (Camren Bicondova). Add a little violent Penguin perversity (courtesy of scene stealer Robin Lord Taylor's Oswald Cobblepot), and you've got an outré hour of grisly action that in this city's future would send Commissioner Gordon reaching for the bat-signal constantly.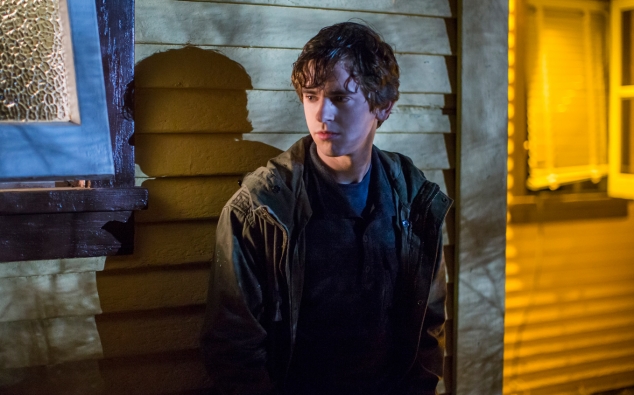 LIKE MOTHER: If Gotham doesn't entirely quench your appetite for Grand Guignol fun, please check out the latest episode of Bates Motel on A&E for a true tour-de-force by Freddie Highmore as tormented young Norman Bates. Abandoned by his mercurial mother Norma (Vera Farmiga, beyond intense), who's fled their house of horrors in a panic, Norman goes into full hysterical psychological meltdown, channeling Norma in a way that may take your breath away, if you're not too busy succumbing to a macabre giggling fit.
PROVOCATIVE PRODUCE: Don't be misled by the cheeky phallo-centric titles of Queer as Folk creator Russell T Davies' double-barreled return to the world of gay drama. Cucumber and Banana are, as they suggest, references to various states of male arousal, and there is a fair amount of campy leering at play as we're introduced to two generations of carnally curious denizens of Manchester, England. But this bold co-production of the U.K.'s Channel 4 and U.S. cable network Logo upends the usual stereotypes by revealing the insecurities beneath the sexual bravado, the emotional inertia that can infect seemingly successful relationships, and the sexual obsessions and hang-ups that make us all human.
These craftily intertwined series—Cucumber is an hour, Banana a half-hour—are anchored by the neurotic antics of Cucumber leading man 46-year-old Henry Best (Vincent Franklin), who can't quite reconcile the domestic reality of his nine-year relationship with good-natured Lance (Cyril Nri) with his constantly roving eye, even though he knows he's no longer a catch (if he ever was). A work crisis amplifies his feeling of dislocation, and throughout Henry's unsettled life we encounter a social substrata of younger gay characters, who take individual spotlights in seriocomic vignettes that comprise the Banana anthology.
Together, these series create the sense of a full and pungent world of unpredictable yet believably flawed characters, infused with Russell's unsentimental empathy and delight in everyday outrageousness. But don't blame me if your next trip down the produce aisle carries more subtext than usual.
Gotham, "Beasts of Prey," airs Monday, April 13, at 8/7c on Fox
Bates Motel, "Norma Louise," airs Monday, April 13, at 9/8c on A&E
Cucumber and Banana premiere Monday, April 13, at 10/9c and 11/10c on Logo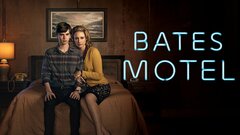 Powered by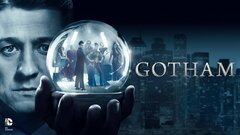 Gotham
where to stream
Powered by