'Real Housewives of Orange County's Vicki on Mom's Death, Brooks' Cancer
Nobody on reality TV has seen more glasses of white wine broken—or friendships and marriages shattered—than Vicki Gunvalson. Now on her 10th season of The Real Housewives of Orange County, the 53-year-old insurance broker is the Bravo docuseries's only remaining original cast member. That doesn't buy her a pass from the drama: In the coming weeks, Vicki will battle rumors that her controversial boyfriend, Brooks Ayers, is faking his cancer diagnosis. And on tonight's episode, she'll receive a call with the news of her mother's death. Here, Vicki reflects on what a long, strange trip it's been—and the bumps ahead.
You shed a lot of tears in Season 10. Is this the toughest one yet?
I filmed real-life stuff. These are the things I would have gone through whether or not the cameras were there, and they're not exaggerated. My biggest fear about watching it is reliving my mother's death.
What is it about the new cast member, Meghan King Edmonds, that ruffles your feathers?
She's been watching our show for years, so she knows what needs to be done to be relevant. If she sees an opportunity to cause conflict, she takes it. I don't really understand her place in our group. She's a lot younger than everybody—I'm 23 years older than she is! You should respect your elders, and she hasn't respected me.
Why do you think some of the other women are questioning Brooks's illness?
I don't understand it. To me, that's just the ugliest form of ugly. Brooks and I have had to separate our real life from our TV life. I've always said, "Don't mess with my family, my money or the people I love—or be prepared for the consequences." People are going to see that this year.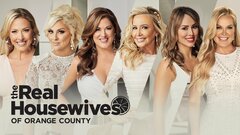 Powered by