'Food Fighters' Spices Things Up
They're not kidding around—or are they? On the new season of Food Fighters, home cooks will once again go head-to-head with professional chefs in the hopes of banking $100,000. However, this time, contestants as young as 12 years old will help spice up the competition. But don't think the adults will take it easy on their mini-mes.
"The chef's reputation is on the line," says host Adam Richman (Man v. Food). "Losing to a child is definitely not going to be easy for them to live down."
Each episode tasks the amateurs with bringing their best recipes to make on air, which they prepare in a series of five rounds, facing off against mystery pros such as Rocco DiSpirito and Duff Goldman. So do these young ones even stand a chance?
"These kids are flambéing, making homemade pasta, using liquid nitrogen," Richman notes with awe. "They are way ahead of where I was at age 12."
Food Fighters, Season premiere Thursday, July 2, 8/7c, NBC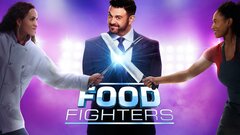 Powered by