5 Things We Need to See in the Final Season of 'Orphan Black'
All right, Clone Club, BBC America's Orphan Black kicks off its fifth and final season on June 10.
After a wild Season 4 finale that left the Leda clones mostly scattered and wounded, we can't wait to see what Sarah Manning (Tatiana Maslany) & co. have in store for Season 5.
You can get a quick, rapid-fire look at what's in store for the new season in this fun, 60-second rundown of Season 5 that BBC America released Friday:
As to what we want to see, while we trust creators John Fawcett and Graeme Manson, below are our humble hopes for the final season.
A Sarah and Kira Reunion
At the end of Season 4, Ferdinand (James Frain) double-crossed Sarah, holding her daughter Kira (Skyler Wexler) and Siobhan (Maria Doyle Kennedy) at gunpoint in their safe house. This will likely rectify itself as Sarah plans on "kidnapping" Kira back, according to the latest trailer. We just hope it happens early in the season. These two have spent too much of the series apart from each other.
A Complete Leda Clone Reunion
While we're at it, let's get the whole gang back together for a Clone Club Dance Party. Where we last left off, the very-pregnant Helena (Maslany) was out in the woods with Alison (Maslany) and her hubby Donnie (Kristian Bruun). Cosima (Maslany) was being nursed back to health on the island, where Sarah was wandering around bleeding from a wound courtesy of Rachel (Maslany). Krystal (Maslany) was probably beating up her kickboxing instructor. And let's not forget M.K., who was last seen coughing up blood and probably needs a cure about as much as Cosima now.
Krystal Solving It All
The Leda clone/nail technician who we first met in Season 3 was making some serious strides by the end of last season — even if she still doesn't believe she's a clone because Sarah's only a "7" and she's clearly a "10." With her go-getter attitude and spunky personality, we wouldn't be surprised if she's kicked Rachel out of her spot as top dog by the end of the series.
P.T. Westmoreland
Who is this 100-plus-year-old guy who wrote the book on Neolution and thinks giving Rachel the reins is a good idea? We must meet him to see how crazy he really is.
Lots More Cosima and Delphine
Our favorite Orphan Black OTP, Cosima and Delphine (Evelyne Brochu), reunited on the island in the finale, but is their relationship destined to rekindle? We sure hope so, but this quote from Brochu isn't helping give us any more hope.
Orphan Black, Season 5 premiere, BBC America, Saturday, June 10, 10/9c.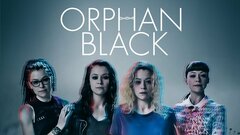 Powered by