Better Call Saul Finale: Bob Odenkirk on Jimmy's Trip to Cicero and the Beginning of Saul Goodman
The verdict is in. AMC's Better Call Saul completed its first season on Monday night as small time lawyer Jimmy McGill (Bob Odenkirk), still reeling from his brother Chuck's (Michael McKean) betrayal, visited his hometown of Cicero, Illinois, and embodied his old "Slippin' Jimmy" scam-artist persona. He also made a crucial career decision that laid the groundwork for his transformation into Breaking Bad's criminal attorney Saul Goodman. We spoke to Odenkirk about Jimmy's trip home, his complicated relationship with Chuck, and why "good times" are ahead for Jimmy in Season 2.
Why is going to Cicero important for Jimmy?
He rediscovers some aspects of himself that made him feel good and confident. I think he's a very multifaceted character that [creators] Vince [Gilligan] and Peter [Gould] have written, so he's really only getting in touch with one side of himself, but it's the side of himself that he's been struggling against through most of the season and not having a very rewarding experience. It's a chance for him to relax a little bit and feel confident and strong, even though what he's doing is nefarious. He's been denying himself a certain kind of freedom at some level.
Is becoming "Slippin' Jimmy" a type of high for him?
You could compare it to that. It's like the free flowing of energy, but instead of sucking it up, he's able to relax. He can be himself in a way that he hasn't been able to around Chuck. It feels good to him. People tend to overcompensate, and in this case, maybe he overcompensated in Albuquerque with the attempts to please his brother after it seemed like years of rejecting his brother. Now the pendulum's swung the other way on this visit to Cicero.
Ultimately, Jimmy tells his buddy Marco (Mel Rodriguez) that he has to return to New Mexico because of Chuck. Even with everything they've been through, what do you make of Jimmy's relationship with Chuck going forward?
There are times when people have a sibling or even a parent who they don't speak to for ten years. I think it could be that. I hope not, because I'd like to do more scenes with Michael McKean, but that's a selfish way to look at it. I don't think it's impossible for them to reconnect because they're brothers. Family can weather an awful lot, and it can rebound from an awful lot, as well.
What was your take on Jimmy's bingo hall meltdown?
I think it makes sense. He's using his character, and as much as he's succeeding with the old people and he's found a place, he's also got to bite his tongue a lot and behave himself. I think it's just the kind of place where he would crack. At a certain point, it feels very false. Even though he's doing elder law, getting all this money, and there is some positive energy happening for him in this pursuit, in the end, he wants to run with the big dogs and he wants to get some respect. Muting his personality the way he has to, to play that role of elder lawyer, is just not gonna sustain. So he cracks there. That was a hell of a scene.
Jimmy rejects the law firm gig and in the last line of the episode, he tells Mike (Jonathan Banks), "I know what stopped me [from taking the money], and it's never stopping me again." Is this the beginning of Saul Goodman?
I do think this is it; he's going to put Saul Goodman together. Now I don't know if he does that in a day or if it takes him a season to find that office and every aspect of that character, but I think it's the next thing to happen. All season long, we've seen bits and pieces of Saul happening, including the visit to the tailor where he picks out the lime green shirt and the paisley tie. I think he's on the cusp here. The question is does he just walk into a Men's Wearhouse and walk out as Saul Goodman, or does he have this interlude where he figures out the character and the angle? Saul Goodman is a very different type of lawyer than we've seen in the show so far. So I can understand where it might take him a while to chance upon that or find that characterization and that kind of business model and choose to pursue it.
What does the future hold for Jimmy in Season 2?
I don't know what's going to happen, but based on the very brief and very general conversations I've had with Vince and Peter, I think Jimmy's got some ups coming his way and some good times, which could be fun to watch. I think the journey he's on is an extended one and has a lot of ups and downs, and maybe more downs than what we've recently seen in this season, but I think he has some ups in his future. I really do. I don't think he's doomed to have nothing but disappointment.
When you look back at this first season, what are you most proud of?
I think I made Vince and Peter proud. I think the fact that they're happy with the show and my performance. They trusted me with such wonderful, deep material and when I look at some of these scenes, I don't know what I've done in my career that would lead anyone to give me these scenes. It's not like I'm a Royal Shakespeare actor, you know? [Laughs] And secondly, the thing I'm most thankful for is that the audience gave us a chance. I'm skeptical and cynical about audiences. It's that s–tty thing that happens to you when you're in show business for any length of time and you have a very constricted notion of what the audience will want, tolerate, or have patience for. People were willing to watch this show and stay with it.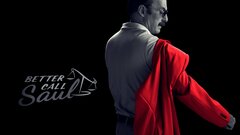 Powered by