Emmy Campaigning Goes Into Overdrive for TV Actors and Producers
Things couldn't be busier for Masters of Sex star Lizzy Caplan. Hoping to score her second Emmy nomination for Outstanding Lead Actress in a Drama, Caplan has been on the campaign circuit for several months, all while filming Season 3 of Masters.
"I'm operating on zombie mode," she says. "The bulk of my energy goes to filming the show, and the scraps that I have left, I don't even know what I'm doing. If you ask me three days from now where I was right now, I couldn't tell you."
In fact, Caplan was at the W Hotel in Hollywood on June 16 to celebrate a new line of Masters of Sex–themed cocktails, timed by Showtime to promote the drama to Television Academy voters. Later in the evening, she was interviewed at the Screen Actors Guild Foundation. A week earlier, two roundtable discussions she participated in for trade magazines Variety and The Hollywood Reporter were posted. In May, Showtime organized a "For Your Consideration" event for voters to meet the drama's stars.
"It's a little bit like a political campaign," says Masters of Sex executive producer Michelle Ashford. "I'm shocked that it has gotten to this level. I've been on a lot of panels this year." Adds Caplan: "I imagine it would be really sh–ty if you didn't like talking about your show."
Several "For Your Consideration" events featuring Emmy contenders and geared toward Academy members are scheduled almost every night throughout April, May and June. Among them: Fox's Empire threw a concert featuring the show's stars; Late Late Show host James Corden interviewed the cast and producers of Unbreakable Kimmy Schmidt; and comedy leads like The Last Man on Earth's Will Forte gathered for a panel sponsored by TV Guide Magazine. Events like the Critics' Choice Television Awards, which attracted a star-heavy crowd on May 31, also take advantage of actors' availability during campaign season (the special aired live on A&E). For talent and producers, attending these functions and participating in press Q&As is considered part of the job.
"I'm happy to talk about the show any chance I can," says The Goldbergs' Wendi McLendon-Covey. "I'm just happy to work. And I want [creator Adam F. Goldberg] to feel so vindicated that anyone ever said no to him."
The campaign frenzy has been accelerated because of the sheer number of shows now eligible for the awards. This year, 143 dramas and 81 comedies are vying for the seven slots in each of the outstanding series categories. "There's just an overload of television, so you've got to do a lot to even get in the game," Ashford says. First-round voting began June 15; nominations will be announced July 16.
Because they attend so many events, competitors get to know each other well. "It's this weird secret club where we can tip our hats from across the room," Caplan says. "I probably love [Orange Is the New Black's] Taylor Schilling the most of the new people I've met. We have this long-standing plan to hang out."
Caplan hopes the stumping gets her invited to the party. "When you are nominated, everyone calls you and it's the most exciting day ever," she says. "When you don't get nominated, half the people call you to talk about how stupid it all is. I think keeping perspective on the whole thing is important. But I had a blast at the Emmys last year, and I'd like to go again."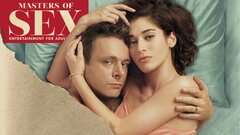 Powered by