The Roush Review, Weekend Edition: Critic's Takes on Wolf Hall, A.D., American Odyssey, and More
Arrive at PBS's Wolf Hall expecting the second coming of The Tudors and you may be disappointed. (King Henry VIII doesn't even appear until near the end of the first hour.) This magnificent six-part Masterpiece adaptation of Hilary Mantel's acclaimed historical novels is more about sinister politics than sexual pomp, brilliantly framing this familiar story from the unusual perspective of the man who in many accounts is marginalized behind the bloody royal curtain: Thomas Cromwell, Henry's trusted advisor and sometimes literal hatchet man.
Wolf Hall has become such an international pop-cultural sensation that a two-part stage version imported from London is currently playing on Broadway. So what a coup for this Masterpiece-BBC miniseries to steal one of this generation's finest stage actors, Mark Rylance, to play the cagey Cromwell opposite Damian Lewis's fiery, impatient monarch. Forever lurking in authentic medieval settings bathed in natural candle- or firelight, the wry and inscrutable Rylance casts a doleful, melancholy shadow over the treacherous machinations that tore England from the Roman church, freeing Henry to wed the willful, arrogant Anne Boleyn (Claire Foy). She and Cromwell unexpectedly find they are kindred spirits: outsiders held largely in contempt by their peers, desperate to survive at all costs.
"People should say whatever will keep them alive. You would, wouldn't you?" Anne challenges Cromwell, who saw first-hand the damage the king inflicted on his own mentor, the ill-fated Cardinal Wolsey (a disarmingly moving Jonathan Pryce). Cromwell is under no illusion that his hard-earned power can protect him from Henry's frequent rages. "I keep you because you are a serpent," Henry reminds him with deadly disdain. In a powerfully sustained performance of subtle sorrow and steely resolve, Rylance reveals a vengeful man who yet takes little pleasure in carrying out his master's harrowing whims. The pleasure, I'm happy to say, is entirely the viewer's.
HOLY TV LOGJAM: On most Easter/Passover weekends, many of us look forward to ABC's annual wallow in classic Biblical cinema that is Cecil B. DeMille's Oscar winning (for visual effects) 1956 camp epic The Ten Commandments, starring Charlton Heston as a Moses we'd follow across any parted sea. The network devotes its entire Easter Sunday prime-time schedule to the movie (starting at 7/6c)—but there's more competition than usual this year on a night that's anything but a holiday for TV programmers and viewers.
NBC counters with the premiere of A.D. The Bible Continues, a lavish 12-part sequel to History's hit 2013 The Bible miniseries, produced by the prolific Mark Burnett and Roma Downey (The Dovekeepers). Though the opening chapters this week and next deal with familiar images of the Crucifixion (less luridly portrayed than in last Sunday's Killing Jesus movie) and Resurrection, the focus falls on the embattled, awed disciples, who in future episodes (unfortunately not made available for preview) will be tasked to spread Jesus's word, at risk of safety and even of life. Handsomely produced (on what appears to be a considerably larger budget than The Bible), diversely cast—with nary a "name" actor in sight—and fresh in its approach to the texts, A.D. deserves more than most of its ilk to be called inspired.
THE LONG ROAD HOME: Third time is almost the charm for NBC, which has been attempting much of this TV season to produce an international thriller in the mode of Homeland (having flamed out most recently with Allegiance and, earlier, the misguided Katherine Heigl vehicle State of Affairs). Easily the best of this new batch, American Odyssey is most compellingly suspenseful in mapping the treacherous title journey of embattled U.S. Sgt. Odelle Ballard (a convincingly resourceful Anna Friel). She's the sole survivor of a Special Forces unit, whose euphoria at taking down a wanted terrorist in North Africa is short-lived when they're obliterated by a posse of private military contractors, who appear to be acting on orders of the U.S. government. The conspiracy—you knew there had to be one—involves a corporation secretly funding the terrorists, financial evidence of which is on a jump drive Odelle possesses and which everyone else wants.
Back home, Odelle is declared dead to her grieving family—although rumors of her survival swirl among political activists engaged in an Occupy Wall Street-style demonstration, led by Harrison Walters (wan Jake Robinson), rebellious son of a wealthy and well-connected journalist. Also getting suspicious: earnest corporate lawyer, and former U.S. Attorney, Peter Decker (Nurse Jackie's Peter Facinelli), whose firm is handling a merger involving the nefarious big-business villains. The more Harrison and Peter continue to snoop, the higher the domestic body count grows—with too many of the violent "surprise" twists telegraphed by the overly familiar, 24-lite plotting.
Whenever the focus turns away from Sgt. Ballard's desperate quest to find a safe passage home (enhanced by vibrant location filming in Morocco), the tension tends to sag. And while Friel (Pushing Daisies) is never less than compelling, Odelle's tendency of falling into the clutches of one bad element after another through the first five episodes takes on a ridiculously melodramatic perils-of-Sgt.-Pauline tone. You may start wondering if she'll encounter an actual Cyclops before her odyssey is over.
THE DEADLIEST DIVA: Lizzie Borden is the stuff of legend, a name to strike fear in the soul of any schoolgirl who jumps rope while chanting the "Lizzie Borden Took an Ax" anthem—an activity we witness in the opening scene of Lifetime's trashy and flaccid The Lizzie Borden Chronicles, an eight-part "limited series" (I'll say) that sadly reduces this fascinating character of gothic Americana to a glowering, calculating, superficially evil monster, played by a grotesquely coy Christina Ricci.
This follow-up to last year's sordid TV-movie (titled Lizzie Borden Took an Ax, naturally) picks up in 1893, four months after the accused ax murderess's acquittal in the murder of her parents. Lizzie's Chronicles is guilty of straining for the cheapest of shock value, with luridly stylized camera and editing tricks, including slo-mo and frequent shock cuts of flashing gore that aren't as much chilling as flagrantly vulgar. Whatever one believes about Lizzie Borden, she deserves better than this.
A MUST-SEE WIFE: Amid all of these high-profile premieres, CBS's The Good Wife continues to soar, delivering one of its busiest, most entertaining—and topical—episodes of another excellent season. Any series would be proud of a storyline as timely as the one in which Diane (Christine Baranski) is charged by a deep-pocketed conservative admirer (Oliver Platt) to perform a mock trial testing the legal limits of the controversial "Religious Freedom Restoration Act," which has bedeviled Indiana legislators recently. (CBS points out this episode was written and filmed in February, before the latest brouhaha.) Diane's provocative, witty and impassioned arguments show The Good Wife at its best.
But this is just one dazzling element in a fast-paced, potentially game-changing episode that finds newly elected Alicia (Julianna Margulies) facing a PR crisis when another set of hacked e-mails is leaked to a TV reporter (a delicious Lily Rabe) detailing her affair with the late Will Gardner. Electronic communications also factor into a possibly more serious dilemma for the law firm, when an investigator (Tim Guinee) begins tracking the e-mail faked by Kalinda (Archie Panjabi) during Cary's trial earlier in the season, which Diane inadvertently used to help free her colleague. The blowback from these incidents is likely to keep The Good Wife a riveting must-see for the rest of the season—if your DVR can handle it. Sundays are insane.
Wolf Hall premieres Sunday, April 5, 10/9c on PBS (check local listings)
A.D. The Bible Continues premieres Sunday, April 5, 9/8c, on NBC
American Odyssey premieres Sunday, April 5, 10/9c, on NBC
The Lizzie Borden Chronicles premieres Sunday, April 5, 10/9c, on Lifetime
The Good Wife, "Loser Edit," airs Sunday, April 5, 9/8c, on CBS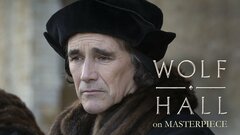 Powered by