Dancing Queen! Mary Murphy on Her 'So You Think You Can Dance' Return
So You Think You Can Dance is getting back its heart and soul. Famed choreographer and ballroom dance champ Mary Murphy returns as a judge for Season 14 after being dropped from the show two years ago. (Executive producer Nigel Lythgoe and actress Vanessa Hudgens round out the panel.) Does Murphy have any idea how much she was missed? Oh, yeah.
So You Think You Can Dance just wasn't the same without you. You know that, right?
Hey, you know what? [Laughs] I actually do! I travel the country a lot—for dance events, but I also lecture on domestic violence and Alzheimer's—and it's overwhelming how many people come up and say they really want me back on the show. You never know how much you're appreciated until something like this happens. It's nice to be missed.
You're known for your deeply emotional judging style. In fact, it's the rare episode where you don't break into tears. What's that about?
I know from personal experience how hard a dancer's life can be, and I'm just not OK with judges or critics who feel the need to humiliate and destroy a dream. And then to magnify that by having it happen on national television? Well, some people never recover from it. I'm here to be constructive, not to tear away at someone's soul.
What's the most devastating critique you ever received?
Back when I was all young and cheery and new to the dance world, a master coach came over from England and gave me a lesson and, with a look of utter disgust, said, "I wouldn't dance with you if they paid me 50,000 pounds." It was like a lead brick to my head.
Why are so many dancers capable of physical feats that were once unimaginable?
I know, right? Salsa dancers are now incorporating tricks into their routines that are so death-defying that—if they mess up—they're actually risking their lives. They are that driven to break boundaries! And this is weird: We used to have street dancers audition for [SYTYCD] who were double-jointed, which was kinda creepy. I just can't with that bone-breaking stuff. I can't! [Gasps] But get ready. This season we have people who are triple-jointed! Who knew that was even possible?
So You Think You Can Dance, Season Premiere, Monday, June 12, 8/7c, Fox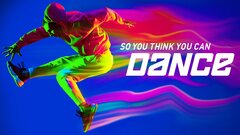 Powered by