Vanessa Williams Reigns as the Queen of Talk TV on VH1's 'Daytime Divas'
VH1's new scripted drama Daytime Divas offers a juicy look at the on-camera and behind-the-scenes exploits of TV's most sizzling (fictional) talk show. In front of their adoring fans, the five talented cohosts of The Lunch Hour are all smiles and sisterhood, but once the cameras turn off, the claws come out as scandal, secrets and jealousy unfold into TV's tastiest guilty pleasure.
The series is inspired by the deliciously scandalous bestseller Satan's Sisters: A Novel Work of Fiction, penned by Star Jones, a former panelist on ABC's The View. Jones also serves as a Daytime Divas executive producer and promises to pop up in the production as a guest star.
Vanessa Williams stars as Maxine Robinson, the creator of The Lunch Hour and the owner of the show's coveted left chair. As the woman in charge, Maxine calls the shots—and pulls the strings.
"What I admire about Maxine Robinson is that she's had a storied past," explains Williams. "She's interviewed popes and pop stars and presidents. She's a woman who is self-made and highly educated and has done things her way and has proved herself."
This isn't the first time that Williams has portrayed a media mogul. From 2006-2010, she starred as ambitious magazine editor Wilhelmina Slater on ABC's hit series Ugly Betty, and she compares the two powerful characters.
"Wilhelmina was on a constant drive to get higher than where she is," Williams says. "Maxine's running the show, so her only ambition is to keep the show the best that she can, because it's her baby."
It's worth noting that Williams enlisted former Ugly Betty writers Jon Kinnally and Tracy Poust to help write her character, with Williams sharing that, "They wrote for me for years and know my voice."
Being the woman in charge forces Maxine to address tough topics in her never-ending quest for ratings. "One of the biggest things that we deal with in the first episode is ageism," offers Williams. "Maxine is the oldest out of everyone, and she's trying hard to remain relevant and youthful. … I'm 54 years old, so I know what that feels like."
From the get-go, Daytime Divas demands its actresses be as brave as the women they portray. When Maxine and her fellow cohosts donned skimpy swimwear for a segment, Williams and her costars had to put their own body issues aside (although they all look wonderful, and Williams is gorgeous in her bikini).
"It was awful for all of us," she recalls. "That was our first day. Not only did we have a full audience that we had to disrobe in front of, but we also had all the network—all the Sony brass, the creatives of the show, the showrunners—watching us, and we hadn't even bonded really as a cast yet."
It was a brave moment for the actresses and their characters, and reveals the series' humanity. Even the famous have fears, flaws and foibles. "It was humiliating in a sense, because we had to bare our bottoms," Williams remembers. "We couldn't wait until it was over, but that's what it called for, and we all knew that when we got the script."
And as the series' elder stateswoman, the former Miss America reveals that she's been dubbed the cast "mom" by her younger costars Tichina Arnold, Chloe Bridges, Camille Guaty and Fiona Gubelmann.
"I've been a mother for almost 30 years now," Williams shrugs. "So if people see that as my role, it's great."
But Williams is more than the show's mom; she is its center, and is perfect as the series' crafty and charismatic heart.
Daytime Divas, Mondays at 10/9c beginning June 5, VH1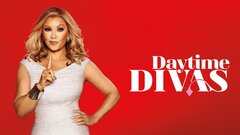 Powered by