What's On: 'The Carmichael Show' Returns to Debate Hot-Button Issues, and 'Fargo' Reels From Tragedy
The Carmichael Show (9/8c, NBC): Not since the Bunkers of All in the Family has a sitcom family's living room been such a heated caldron of cultural debate on hot-button issues of the day, somehow played for laughs. Returning for a third season with back-to-back episodes, The Carmichael Show treads treacherous battle-of-the-sexes waters when Maxine (Amber Stevens West) learns through social media of a friend's sexual assault, and is astonished when even Jerrod (Jerrod Carmichael) takes issue with the unchallenged accusation. In an ensuing discussion over the definition of consent, Bobby (Lil Rel Howery) begins to fret over his past behavior. The second episode questions whether one must support the troops even when a newly recruited soldier is revealed to be an utter jerk. As Jerrod's outrageously outspoken parents, David Alan Grier and Loretta Devine steal every episode, perhaps not such a feat given how flat Carmichael's acting tends to be. But it's refreshing to see a network comedy aiming to be so willfully provocative.
The Handmaid's Tale (streaming on Hulu): When the wife's away, the Commander (Joseph Fiennes) makes a play to take Offred (Elisabeth Moss) for a night out on the town—which only leads to new discoveries of how debauched and hypocritically oppressive the society of Gilead has become, while Offred/June makes an unexpected sighting. The episode also gives insight on the past of Offred's secret lover, the brooding driver Nick (Max Minghella).
Fargo (10/9c, FX): After last week's bloody turning point, the screws begin to tighten on Emmit (Ewan McGregor) and his increasingly distraught consigliere Sy (Michael Stuhlbarg), putting a pall on their already blemished Christmas season. It's an excellent outing for Carrie Coon as Eden Valley Chief (for now) Gloria, unfazed by criticism by arrogant higher-ups as she seeks access to a newly vulnerable Nikki (Mary Elizabeth Winstead). A suspenseful climax has us counting the minutes until next week's episode.
Inside Wednesday TV: NBC's Little Big Shots (8/7c) moves to a new night for the summer—probably wise given how prominent host Steve Harvey will be with Sunday night game shows on ABC later this month. Acts include an 8-year-old newscaster and a 7-year-old stand-up comic. … The bruising MMA drama Kingdom begins its third and final season on AT&T's Audience Network (8/7c) with the Kulina family in its usual state of turmoil, elevated by papa Alvey's (Frank Grillo) decision to get back in the ring. … PBS's Nova: Poisoned Water (9/8c, check local listings at pbs.org) uses the health crisis in Flint, Michigan, where the water supply was tainted with dangerous levels of lead, to send a cautionary note about the vulnerability of water systems across the country. … TV's most ubiquitous celebrity chef goes live in Fox's The F Word With Gordon Ramsey (9/8c)—the "f" stands for "food, fun and family," in case you were curious. In each episode, two teams of amateur chefs take over a restaurant just before showtime to try to impress a gathering of celebrities and VIPs, while Ramsey provides his usual colorful commentary.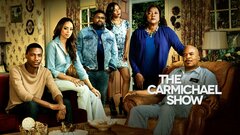 Powered by