'Prison Break': Mark Feuerstein on Portraying Jacob's Dark Side (VIDEO)
After eight seasons of playing the charming Dr. Hank Lawson on Royal Pains, Mark Feuerstein was delighted to shake things up on Prison Break.
"We as actors don't have as many choices as people often think we do," Feuerstein said on the set of the event series' finale. "So I was very blessed that a role came to me that was the diametric opposite of Dr. Hank Lawson."
Initially, it seemed like his character Jacob was another decent guy—and a loving husband to Sara (Sarah Wayne Callies)—but it was just a facade: He was really Poseidon, the Big Bad, who was responsible for Michael (Wentworth Miller) being away from his family.
"In playing Jacob, I used all the warmth I could muster and the love I could draw upon to play with my son and my wife," Feuerstein said. "Because it's that much more horrifying when you realize what he's been doing all along."
See Also
Wentworth Miller, Dominic Purcell and other cast members reveal what to expect from the 2017 revival of the hit Fox thriller 'Prison Break'.
Though the final reveal was kept until the second half of the season (though Jacob talked his way out of Sara's early concerns), Feuerstein was told where his story was going from the start. "I had that rare moment when an actor walks into what he presumes is an audition, but is really more of a meeting where the creator Paul Scheuring's pitching me the season, which was so awesome," he recalled. "Because what he was pitching was amazing. He told me he had based the entire event series on Homer's The Odyssey. So he was using good source material for epic, tragic drama; go right to the Greeks."
And Jacob's reign of terror isn't done. In an exclusive clip from the Prison Break finale, Michael and Sara fight off an attack—only for Jacob to get the upper hand with Mike (Christian Michael Cooper).
Prison Break, Finale, Tuesday, May 30, 9/8c, Fox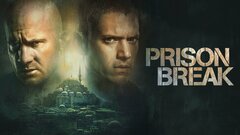 Powered by