TV's 'Rule of 4' Strikes Again: Why Empire Is Part of a Decade-by-Decade Trend in Hit Shows
Television's unofficial "Rule of 4" has done it again.
At the onset, the 2014-15 TV season didn't appear to be anything special. Critics mostly yawned at the new network fare, and other than a few new comic book series, the year looked to be a dud. Here's what we wrote as the season kicked off in September: "Most critics have been sour on this fall's lineups. But it only takes one or two mega-hits to trigger a new primetime evolution."
Primetime got its mega-hit. Fox's Empire blew away every expectation, growing its audience every single week. Last month's Season 1 finale drew 21.1 million viewers (including three days of DVR and VOD lift) and became the highest-rated freshman finale since Grey's Anatomy in 2005. Empire is now on every executive's mind as the networks prepare to unveil next year's lineups, and the impact of the show's success will be felt for seasons to come.
But Empire isn't the year's only game changer. At ABC, the solid debuts of new sitcoms Black-ish, Fresh Off the Boat and Cristela underscored the network's move toward even more non-traditional family comedies. And Shonda Rhimes' How to Get Away with Murder solidified ABC's strength on Thursdays.
At The CW, the arrival of new hit The Flash and critical darling Jane the Virgin put that netlet on more solid footing than perhaps at any other time since its launch. Besides Empire, Fox is also enjoying a strong launch for Gotham and even opened the unconventional comedy The Last Man on Earth. CBS is refreshing its stable with new hits like Scorpion, NCIS: New Orleans and The Odd Couple. And the year isn't over, as NBC's A.D. opened solid, and if it holds, could very well tap into another underserved audience.
That's not to say network TV is thriving—the challenges are real, and the threshold for what's now considered a hit is shockingly low. But for a year that initially looked disastrous for network TV, it's probably the best season for the traditional guys since 2004-05.
And that brings us back to the "Rule of 4." Coincidentally or not, in the past few decades, years that ended in "4" have turned out to be game-changing seasons in network TV. In 1984-85, The Cosby Show premiered and immediately revived a moribund NBC, as well as the entire sitcom genre.
By 1994-95, NBC was struggling once again – until Friends and ER came along and made the Peacock Network an unstoppable force for the rest of the decade. By 2004-05, it was ABC on the ropes, until Lost, Desperate Housewives and Grey's Anatomy debuted and turned that network around. This time, in 2014-15, it's Fox that is benefiting from a healthy boost. (Yes, Empire technically didn't premiere until January 2015, but since it's still a part of the 2014-15 TV season, we're going to allow that in the "Rule of 4" anyway. This is a rather silly theory to begin with, so play along.)
(Go back even further: In 1964, legendary shows like Gilligan's Island, Peyton Place, Bewitched, The Munsters, The Man from U.N.C.L.E. and Gomer Pyle, USMC all debuted.)
As we speculated last summer, perhaps years that end in "4" happen to be the moment when shows from the previous decade have finally cleared out and viewers are ready for new, iconic series.
When we discussed the theory last year with former CBS exec Jim McKairnes, who now chairs the global broadband and telecommunications department at Temple University's School of Media and Communication, he was intrigued. "I'll leave it to you to analyze whether the heavens divined this or if suggests an end-of-previous-decade tectonic shift," he said then. "But it does make for an odd and even fun coincidence."
As Empire began its ratings roll, we caught up with McKairnes again to talk about how the "Rule of 4" seemed to once again be coming true. "When Empire started ticking up, I did think of your theory," he says.
But on the flip side, the "Rule of 4" often begets the "Rule of Copycats." Cosby led to a glut of carbon copy family sitcoms. Friends spawned a cottage industry of comedies about twentysomething friends living in the city. Lost led to a glut of mythology dramas with conspiracy elements. Those facsimiles rarely succeeded. Yet, "Empire will lead to new shows that try to cash in on its look without knowing what makes it work," McKairnes says. "It's really just a well-done and addictive and social-media-friendly version of an age-old franchise known as the soap opera."
You've been "4"-warned.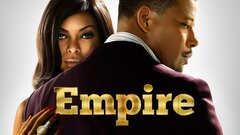 Empire
where to stream
Powered by