Watch My Show: Richie Rich's Brian Robbins on Why His Netflix Show is Money
Brian Robbins knows a bit about what it's like to be a success at a young age—but nothing like Richie Rich, the classic character he has reinvented for Netflix.
The former child actor (Head of the Class) is now the CEO of youth-centric online powerhouse AwesomenessTV, which is behind the new half-hour sitcom. In this reboot, Richie (Jake Brennan) becomes the richest kid in the world when he sells his new green technology for over a trillion dollars. After that, he moves his family into a mega-mansion and their adventures begin.
Robbins [right], whose producing credits include Smallville and One Tree Hill, took our showrunner survey to explain why we should bank on Richie Rich.
I have time to watch one more show. Why should it be yours?
The new Richie Rich is a fresh, live action reinvention filled with physical gags, feel-good comedy and lovable characters.
Who should be watching?
This is definitely a show for kids (ages 6 to 12) but I have no doubt that parents and families will find themselves laughing out loud.
What happens if we don't watch?
Your kids will never be inspired to pave their own way and will be living at home until the age of 40.
What's the best thing someone has said about your show?
Our focus group of boys and girls said, "It's really, really funny." What more could you ask for?
What's the worst thing?
Richie Rich earns a trillion dollars by turning his uneaten vegetables into green energy. Any bewilderment about the scientific reasoning is expected and encouraged! I'm sure kids all over the world would be thrilled if we could find a higher purpose for broccoli.
Who was right?
The kids are always right, but especially when making kids shows.
What's an alternate title for your show?
#TrillionaireProblems
Give us an equation for your show.
Home Alone meets Wall Street.
Come up with a premise for a spin-off.
Who needs a spin-off when you've got Season 2 on Netflix in the pipeline!
What credit of yours would you prefer we forget?
All of my acting roles.
Tell us one thing about your cast.
The slapstick comedy inspired the cast to pull pranks on everyone from the sound guy to the executive producers. No one was safe!
On what other series would you like to be an executive producer?
The Big Bang Theory.
Let's scare the network. Tell us something that didn't make it to air.
Grandma getting Botox. This was quickly nixed, I swear.
Finish this sentence: "If you like________, you'll love our show."
NETFLIX!
Pick a show and start a fake feud.
House of Cards…Francis, you're going down!
Richie Rich is currently streaming on Netflix.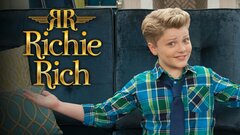 Powered by