Fargo Season 3, Episode 6: 'The Lord of No Mercy' (RECAP)
[Spoiler Alert: Do not read ahead unless you've watched "The Lord of No Mercy" episode of Fargo. Plot points are discussed below.]
For the first time since Season 3 began, Fargo really feels like Fargo again. Like Ray impersonating his more successful brother Emmit, episodes one through five have been good enough to pass for Fargo, but they haven't been quite right for reasons that are difficult to put a finger on. The previous seasons' tension, unpredictability—their essence—have been missing. With "The Lord of No Mercy," again like Ray, the season has finally found its backbone. Fortunately, unlike Ray, the series doesn't show any signs of abrupt exsanguination now that it's gained its momentum.
Having sprawled out its story for a month and a half, adding characters and plot lines just to the border of unruliness, Fargo has begun the process of paring things back down to a manageable shape, beginning, heartbreakingly, with Ray.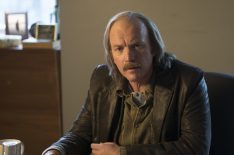 See Also
Noah Hawley talks about the genesis for creating Season 3 of his acclaimed anthology series 'Fargo'.
The episode picks up in the calm after one storm but before the next, with Ray sitting in silent contemplation of Nikki's injuries. After she tells him what happened, Ray springs into action, pulling a gun from the crisper drawer of his fridge and setting off to hunt down the villainous Yuri and Meemo. This time, in something of a reversal of roles, Ray takes the lead, and it's Nikki who advocates some restraint in the commission of an ill-advised crime.
Also worth noting is that Nikki has correctly deduced exactly what's been going on with Emmit and Varga's private equity firm. She's figured out that Emmit is involved in "some shady dealings," that those dealings aren't entirely voluntary, and that they're the result of getting in too deep with a "shark in a suit" after the real estate crash. The fact that she's pieced all of this together should make her a high-value target for operators on both sides of the law.
Meanwhile, Varga has been regaling Sy and Emmit with a trio of "true" stories that are varying degrees of true. The first is about the perception of value becoming actual value for Lehman bank during the 2008 financial crisis, the second is about fate determining history for Archduke Ferdinand's assassin, and the third is about the filming of the moon landing on a soundstage in New Mexico.
Sy is, understandably, a bit apprehensive about the aggressive business expansion plan Varga is laying out. After last week's episode seemed to be moving Sy closer to the center of the web of plot threads, this week seems to have shoved him back into the periphery. He's not currently the subject of Varga or Emmit's ire, and, oddly enough, the whole Nikki beating thing doesn't even come up. This is a shame, not just because Michael Stuhlbarg has been an excellent source of comic relief, but because it's hard not to imagine that his character would be more interesting if he actually did get to snap.
See Also
On this week's 'Fargo,' things escalate quickly, and violently, as Varga and his goons pressure Sy.
Emmit is preoccupied during the meeting with a flashback to the phone argument he had with Ray the day before. "When I'm done with you, they'll be sponging you off the floor," he remembers in an important bit of foreshadowing. The way things are going, it wouldn't be out of the question for Ray's threat to Emmit of dirty sock soup in the poorhouse to become equally true before the season comes to an end.
Before Ray's bloody accident , the other pivotal scene this week is the long-awaited meeting of the season's hero, Gloria, and it's big bad, Varga. Gloria and Winnie go to the Stussy Lots offices to question Emmit regarding his feud with Ray and its potential connection to Ennis's murder. Varga, sensing trouble, intercedes to take control of the situation, but Gloria always seems to have an appropriate parry prepared during their verbal spar. Her levelheaded unwillingness to back down from confrontation while dealing with Varga's obstructionism, while somewhat less dramatic, recalls Lou Solverson's first stand-off with the Gerhardts in Season 2.
Predictably enough, Varga tries to look Gloria up on the internet after their encounter, turning to his most nefarious tools, Facebook and Google, but finding nothing.
See Also
The great British thespian reveals the episode you won't want to miss.
Despite her lack of tech, it's Gloria's interrogation that finally convinces Emmit to make amends with Ray by giving up the stamp and her persistent legwork that finally convinces Ray to take Nikki and head out on the lam. Both of those decisions wind up turning out poorly for Ray.
Having deposited Nikki at a motel to get Gloria off his trail, Ray goes back home to retrieve his bag of money, only to find Emmit waiting for him. Emmit, reeling from the realization that Ray had sent Maurice to rob him of his stamp, is prepared to offer up the stamp to end their brotherly feud. Ray, belligerent to the last, is too stubborn to take the stamp if Emmit actually wants to give it to him.
In the resulting scuffle over who will or won't take the stamp, Emmit accidentally breaks the glass frame directly over Ray's face and into his neck. Just like Sy watching Nikki's beating last week, Emmit seems paralyzed in shock as his brother bleeds out on the floor. The first thing he thinks to do when he comes back to his senses is call Varga, who happens to be listening to some Beethoven and pondering Lenin quotes about beating people over the head rather than telling them kind, stupid things.
RELATED: Subscribe To TV Insider's Fargo Newsletter
On the upside, by bleeding to death, Ray saved Nikki's life. Meemo, who Varga had tasked with executing the couple, was instead called in to clean up some spilled Ray, leaving Nikki to her own devices at the motel. On the downside, Varga plans to frame Nikki for Ray's murder, using the beating Yuri gave her as evidence that Ray had been abusing her.
While Meemo's accounted for, Yuri is still on the loose. He was last seen leaving Varga's trailer on his way to Eden Valley to dig up records on Ennis's murder, but he won't find Gloria there. She's headed back to Ray's house on a hunch, which sets up the major cliffhanger going into next week. With Yuri headed to Eden Valley, Gloria headed to the scene of Ray's killing and Nikki now an unknown quantity, there's no telling which direction the next episode will go, which is exactly how Fargo should be.
---
Miscellaneous thoughts:
-Meemo makes a convincing lawyer, but it would be surprising if the IRS threat didn't reemerge somehow.
-Varga performing dental work with a nail is difficult to watch, but it must be hard to stay invisible if dentists have records of your horrible, horrible teeth.
Fargo, Wednesdays, 10/9c, FX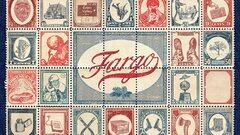 Powered by